Updates
To keep ourselves accountable and encourage community engagement with MSE Department DEI efforts, we will share relevant milestones, news, and events here. To view upcoming events and latest news for the MSE Department generally, please click here.
Summer 2022
Mary and Ethan Meister have generously contributed funds to support work-study eligible undergraduates in research positions.   
Spring 2022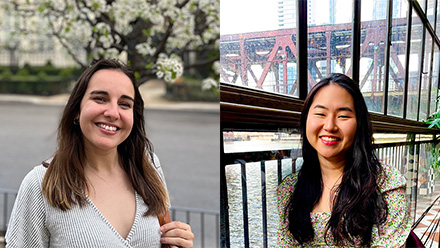 PhD candidates Julia R. Downing and Sieun Ruth Lee were named the winners of the Department of Materials Science and Engineering's (MSE) inaugural Diversity, Equity, and Inclusion (DEI) Award sponsored by the Dow Chemical Company. Read more about the award recipients here. 
Winter 2022
The MSE DEI Committee (DEIC) is soliciting peer and self-nominations for a new DEI Award funded by the Dow Chemical Company. The purpose of the award is to recognize and reward those members of the MSE community who participate in outreach and inclusivity efforts, thus creating an environment in which students from underrepresented populations can succeed. The DEIC requests nominations of current undergraduate students, graduate students, postdoctoral fellows, and members of the staff (excluding members of the faculty) by 11:59 PM CT on Monday, March 14, 2022. Please use this link to submit nominations. The DEIC will select three awardees. The awards include a cash prize and will be presented at the MSE Awards Banquet following the Hilliard Symposium (May 19, 2022), an annual celebration of excellence in the department. A representative of Dow will be invited to attend both the day-long symposium and the evening banquet. For questions and additional information, please contact Mimi Givens.
Summer 2021
Spring 2021
This year's Hilliard Symposium, chaired by Prof. Derk Joester, will feature a workshop and presentation to initiate conversations on diversity, equity, and inclusion within the department led by Dr. Michael J. Rawlings. The addition of this programming was led by the student advisory committee to the Hilliard Symposium (graduate students Bradley Moreno, Namrata Ramani, and Ruth Lee). Learn more here! 
In addition to our regular colloquium events, the MSE Department is hosting a new Spring Seminar Series highlighting recent advances and breakthroughs in materials research by early career scientists and engineers. More details can be found here.
The MSE Spring Town Hall hosted with MSSA will be held in May 2021. More information will be posted here.
Winter 2021
The graduate student DEI Committee representatives, Julia Downing and Ramya Gurunathan, have been hosting DEI Office Hours via Zoom to facilitate dialogue on topics including inclusivity considerations in advisor selection, policing at NU and in Evanston as it affects MSE students, international student support, and conflict resolution in the department. Please contact Julia and Ramya for more information on how to participate.
The first of 2021's virtual visits for prospective students included a presentation from the DEI Committee and a panel discussion led by MatSAIC (Materials Science Alliance for an Inclusive Community).
Fall 2020
DEI Committee Chair Sossina Haile participated in a webinar panel discussion presented by the 

MRS Women in Materials Science and Engineering working group on "Intersections of Underrepresentation in Materials Science and Engineering." Watch the event here.
Summer 2020

Student-led town halls (one hosted by MSSA and one hosted by MatSci Club) occurred in August. These events featured presentations from the faculty's preliminary DEI Task Force and critical questions from participants.

The DEI Committee was subsequently formed to continue promoting diversity, equity, and inclusion across department communities.
More in this section