Berry Leads Webinar at IEEE Future Directions 5G Initiative
The talk highlights his work on the interaction of economics and technology in wireless networks.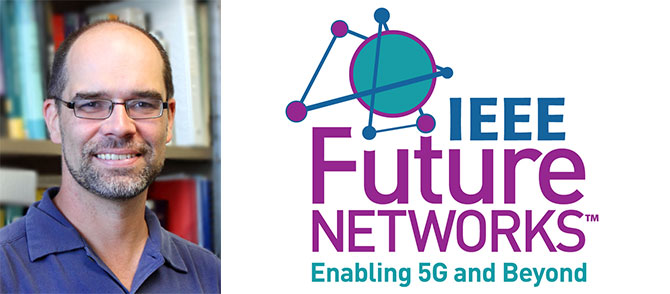 Prof. Randall Berry recently lead a webinar as part of the IEEE Future Directions 5G Initiative, which includes researchers, scientists, and engineers from industry, academia, and governments around the world working together to meet the challenges associated with the development and deployment of 5G wireless technologies.
His talk was titled, "5G Spectrum Sharing: A Network Economics View" highlighting Prof. Berry's work on the interaction of economics and technology in wireless networks and was held on Wednesday Aug 22nd, 2018. View a future talk
About the Webinar: Utilizing novel forms of spectrum is a key enabler for meeting the needs of 5G. Examples include shared spectrum as in the CBRS framework and and tighter integration of unlicensed and licensed spectrum. These approach will impact not only the technical performance of networks but the economic incentives of service providers as they make decisions about what technologies to deploy and how they compete. This talk will examine several of these issues and discuss network economic models that can be used to gain insight into them.
About the IEEE 5G Webinar Series: We live in exciting times, where the pace of innovation and change is increasing rapidly and can make or break a company's future in months.  Mobility continues to be a driving force in our economy, as well as our everyday lives.  5G is expected to contribute greater than $100B to the economy within the next ten years; yet there is too little understanding of what it is, what it can do, how it will be used, and what comes next. The objective of the IEEE Future Networks Webinar Series is to expand this understanding and to be the first point of learning for all things related to 5G and beyond. These webinars will be offered around the globe to both IEEE members and non-members.