EE Undergraduate Teaching Labs Announce New MakerBot 2X 3D Printer in 24/7 & MG22 Labs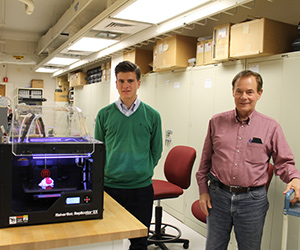 The Electrical Engineering Undergraduate Teaching Labs (EE Labs) rolled out their new MakerBot 2X 3D Printer in the 24/7 and MG22 Labs on Monday, November 4, 2013.
The printer is connected to a dedicated new Windows7 PC.
For use of the MakerBot 2X 3D Printer, please read the detailed instructions that have been prepared by Royce Morris, Electronics Technician on the login screen. Be aware of the necessary cautions and procedures before using this machine. 
For the time being, they are providing one color of ABS filament at a time.
Part of the EE Labs, the 24/7 Lab is accessible via a swipe of a valid Wildcard at any time of the day or night, students can use the lab for personal projects and class-related work. The lab is equipped with power supplies, Oscilloscopes, Function Generators, DMMs, temperature controlled soldering stations and hand tools.
Their goal is to give our students a great place to work on and develop their ideas. Please direct any questions, comments or feedback to Norm Flasch, Electronics Specialist.
3D printers allow users to print 3 dimensional computer files into actual objects, depending on the material being used by the printer. One company leading the way for consumers is MakerBot and their Replicator 2x is in hot demand.
The Replicator 2, is the newest model of 3D printer from the company. The build plate is significantly bigger than its predecessors, with the ability to spit out creations that measure 11.2 x 6.1 x 6.0 inches (410 cubic inches). That's a full 37 percent larger than the original Replicator, but the machine itself is the same exact size.
The frame is no longer assembled from laser-etched wood, instead there's a powder-coated steel frame with PVC plastic sides to help shield the various moving parts and lend an air of professionalism to the affair. The extruder is designed specifically for use with MakerBot PLA, a new plastic material based on corn, that Bre Pettis claims wont expand when exposed to the heat -- which means it wont contract when it cools, leading to smoother printed objects and less cracking.
The new printer has a resolution of 100 microns, by comparison, the original Replicator had a layer resolution of 270 microns. Now each layer of plastic is as thin as a sheet of copy paper, resulting in smooth printed prototypes.