Building a Coding Curriculum for Students in Sierra Leone
Pattan Sandy Bockarie, a second-year student in computer engineering at Northwestern Engineering, aims to help close the digital divide in Sub-Saharan Africa.
Putting his goal into action, Bockarie joined the 2023 Clinton Global Initiative University (CGI U), a community of undergraduate and graduate students committed to developing innovative solutions to pressing global challenges.
Founded by President Bill Clinton in 2007, the 10-month CGI U program includes a social impact curriculum centered around learning, leadership, and action, which begins with a global annual meeting. Held March 3-5 at Vanderbilt University, the latest meeting convened hundreds of students, CGI U alumni, and subject-matter experts.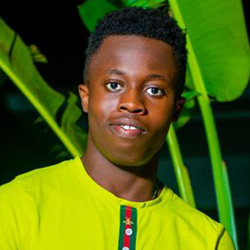 "The annual meeting was really amazing. I learned a lot from the alumni that have done so much for their communities," Bockarie said. "It got everyone into the spirit of believing, no matter how small or big your project is, you're able to do it."
CGI U participants are selected based on the strength of their "Commitment to Action," or a new, specific, and measurable project aligned with CGI U's five focus areas — education, environment and climate change, peace and human rights, poverty alleviation, and public health.
Through his project, titled "Coding in Krio for Teens in Kenema, Sierra Leone," Bockarie is committed to developing a computer coding curriculum in the Krio language to teach senior secondary school students in Sierra Leone the basics of programming.
"Everyone speaks Krio. Even though English is the official language of Sierra Leone, I want to use the L1 language because coding is something they've never heard about, and speaking in someone's mother tongue makes it easier for them to understand what you're trying to teach them."
Bockarie explained that coding is not a standard part of the secondary school curriculum in Sierra Leone. He didn't have access to coding education until he earned a scholarship in grade 11 to attend the United World College of South East Asia in Singapore.
"There is no coding in school in the city that I'm from, and a lot of kids lack the opportunity to take up a career in computer science because they don't have that foundation," Bockarie said.
Bockarie will draw on his own experience getting up to speed with his computer science classmates in Singapore as he builds a curriculum for coding novices.
"I was racing to catch up with the other people," Bockarie said. "It was difficult at the start because everything was new to me. Relating what's happening to the computer to what's being written as code helped me to understand coding. As soon as I got the hang of the basics, it became easier."
Bockarie's curriculum will focus on building blocks and programming constructs, and introduce coding through Scratch, a high-level block-based visual programming language developed by MIT Media Lab. The curriculum will also incorporate the fundamentals of Python, a general-purpose language.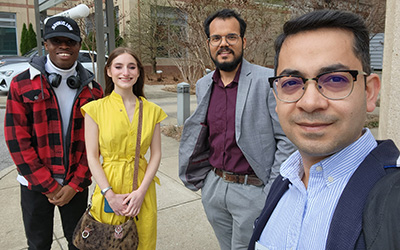 During the CGI U kick-off meeting, Bockarie met Aimee Resnick, a social policy and art history student in Northwestern's School of Education and Social Policy (SESP), who connected Bockarie with several contacts in the learning sciences. He aims to work with his assigned CGI U mentor and networking connections to complete a working curriculum by the end of May.
Bockarie then plans to pilot the curriculum this summer with two schools in Kenema, partnering with the nearby Eastern Technical University of Sierra Leone to teach at least 50 students using their computer lab facilities. Bockarie has a long-standing relationship with the university — his mother has been a lecturer for 30 years and his father was a former administrator.
"I need to be able to gauge how much they are understanding and work with the students to test whether the curriculum works. That's the first phase," Bockarie said. "Then, the idea is for these students to become ambassadors in their schools to teach their fellow students what they have learned."
Through this project, Bockarie seeks to get the attention of Sierra Leone's minister of education and chief innovation officer, David Moinina Sengeh, who is an alumni of the high school Bockarie attended.
"I'm trying to see if I can use that connection to start a conversation about adding computer science into our school curriculum," Bockarie said. "I want to be able to help people back home. All I want to do is do my best to try to solve, or at least have input on, the digital divide. This project is step one."
Each year, thousands of undergraduate and graduate students around the world apply to CGI U. Ten Northwestern students were accepted to the 2023 cohort. Over the next 10 months, CGI U students will attend meetings and courses to learn and discuss practical strategies to maximize the outcomes of their projects, including training on fundraising and cultivating partnerships.
Northwestern joined the CGI U Network in 2014 with organizational representation from the Institute of Sustainability and Energy at Northwestern (ISEN). ISEN provides CGI U application guidance and project support to Northwestern students.
"CGI U is a really great opportunity for people who have projects that they're really passionate about that really want to change the world and make a difference," Bockarie said.