Reconnecting the Microarchitecture Community
Simone Campanoni and Nikos Hardavellas co-chaired the five-day MICRO 2022 conference hosted in Chicago on October 1-5, 2022.
Northwestern Engineering's Simone Campanoni and Nikos Hardavellas served as the general co-chairs of the 55th IEEE/ACM International Symposium on Microarchitecture (MICRO 2022), held in Chicago last month.
Bringing together the community of researchers in fields related to microarchitecture, compilers, chips, and systems, MICRO 2022 is a premier forum for innovative microarchitecture ideas and techniques for advanced computing and communication systems.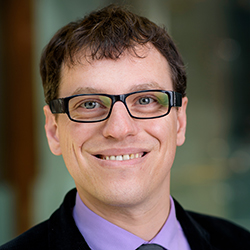 Campanoni, assistant professor of computer science and (by courtesy) electrical and computer engineering at the McCormick School of Engineering, and Hardavellas, associate professor of computer science and associate professor of electrical and computer engineering at McCormick, oversaw conference logistics, including finances, budgeting, sponsorship, publicity, workshops and tutorials, contracts, and catering.
Drawing on extensive service to the scientific community on various conference committees over the years, this was both Campanoni and Hardavellas's first time serving as general co-chairs of the MICRO organizing committee.
Following virtual events in 2020 and 2021, Campanoni and Hardavellas determined early on that MICRO 2022 would be organized as a fully in-person event, partially due to the prohibitive complexity and cost of a hybrid structure, but mainly for the networking benefits of an in-person conference.
"We looked at the community, and it was clear that online meetings don't provide as much networking and opportunity for participants to talk with each other, meet new colleagues, and catch up with our old friends," the co-chairs said. "The interpersonal relationships are the underpinning reason why many of us travel to conferences in faraway places."
The organizing team intentionally designed the schedule to include social events each evening of the conference, including a welcome reception, an excursion and banquet at the Field Museum of Natural History, and a happy hour event.
In addition to two and a half days of program sessions on topics including embedded, Internet of Things, and mobile systems; compilers and code generation; machine learning; accelerators in/near memory; and quantum computing, the five-day MICRO 2022 event featured a record 19 workshops and tutorials — more than twice that of prior conferences.
The three keynote presentations were:
"The RISC Journey From One to a Million Processors" – Dave Ditzel (Esperanto Technologies Inc.)
"Democratizing Customized Computing" – Jason Cong (University of California, Los Angeles)
"The Path to Quantum at Scale" – Krysta Svore (Microsoft)
Russell Joseph, associate professor of electrical and computer engineering and associate professor of computer science at Northwestern Engineering, was part of the 130-member program committee responsible for selecting the papers to be presented at the conference. Joseph also co-chaired the MICRO 2022 student research competition.
As a member of the external review committee, Gokhan Memik, professor of electrical and computer engineering and professor of computer science, contributed to the review of paper submissions.
Ten Northwestern Engineering students volunteered to support the event, including managing on-site registration and logistics for the Field Museum excursion.
"They did a fantastic job," the co-chairs said. "With the goal of encouraging interactions, the volunteers organized the option for attendees to walk from the hotel to the Field Museum, crossing through beautiful Millennium Park while talking and having a relaxing experience."
A total of 557 participant attended MICRO 2022; approximately two-thirds of attendees were students, including a few undergraduate students. Twenty percent of the participants represented industry.
"Academics depend on each other a lot. This is really a place where students tend to interact with more senior people in their scientific field and really get a sense of opportunities in various fields, both academia and the industry," the co-chairs said. "The younger faculty were very eager to go back and start having personal relations with people in the community, and the rest of us were eager to go back and meet our old friends again."
"The feedback I received was positive," the co-chairs said. "People were happy to gather in person and told me that it felt like we were back to the normal routine."
MICRO 2022 was sponsored by Northwestern Engineering's Department of Computer Science and Department of Electrical and Computer Engineering and the following corporate partners: AMD, Amazon Web Services, Futurewei Technologies Inc., Google, IBM, Intel, MangoBoost, and Micron. The IEEE Computer Society Technical Committee on Microprogramming & Microarchitecture and ACM Special Interest Group on Microarchitecture were technical and student travel grant sponsors.