Professor Chi-Haur Wu Passes Away
Wu was a leader in solar-powered vehicles and robotics research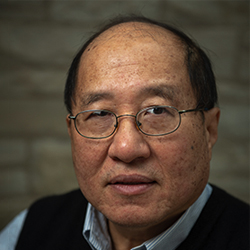 Chi-Haur Wu, associate professor of electrical and computer engineering at Northwestern Engineering, passed away at age 71 on October 22, 2022.
Born May 9, 1951, Wu joined the McCormick School of Engineering in 1983 after previously working at Unimation Robotics Inc. in Danbury, Connecticut.
Wu investigated industrial and interactive robotics, CAD/CAM, industrial control applications, automated manufacturing, neural networks, computer graphics and images, automated medical instrumentations, and surgical robot systems. His most recent research interests included the areas of bio-mimicking muscle damping control, autonomous robotics, assembly/disassembly automation, and product life evaluation.
Wu authored more than 20 academic papers and he and his collaborators secured four patents.
An expert in solar-powered and battery-powered electrical motor-driven vehicles, Wu served as a long-time faculty adviser for the Northwestern Solar Car Team (NUsolar), a student-led organization that designs, manufactures, and races next-generation solar powered electric vehicles.
"When I first started in ECE all those years ago, Chi-Haur's office was next to mine. He was always friendly and super helpful to me those first few years," said Russell Joseph, Associate Professor of Electrical Engineering and Computer Science at Northwestern Engineering. "He cared deeply about teaching and always worked hard to make sure that our students had a solid grounding in practical knowledge — especially in regard to labs."
Wu supervised 11 PhD students and 30 master's degree students. He chaired the department's instructional labs committee for many years. Wu also taught undergraduate and graduate courses, including COMP_ENG 203: Intro to Computer Engineering, ELEC_ENG 225: Fundamentals of Electronics, and ELEC_ENG 390: Intro to Robotics.
"Chi-Haur was a valued member of our department," said Randall Berry, John A. Dever Chair of Electrical and Computer Engineering. "He was a strong advocate for our undergraduate teaching labs and a dedicated instructor."
Wu earned a PhD in computer engineering from Purdue University in 1981, an MS in electrical engineering from Virginia Tech in 1977, and a BS in electrical engineering from National Taiwan University, Taipei City, Taiwan in 1973.
Wu is survived by his wife, Connie Wu, and son, Alex.