IEEE Honors Thrasos Pappas as a Life Fellow Member
The lifetime distinction recognizes significant contributions to one's field of study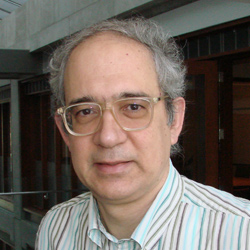 Thrasyvoulos (Thrasos) Pappas, professor of electrical and computer engineering at Northwestern Engineering, has been elevated to a Life Fellow member by the Institute of Electrical and Electronics Engineers (IEEE).
The designation of Life Member is granted to an IEEE member who has reached 65 years old and has been a member of IEEE (or one of its predecessor societies) for such a period that the sum of the member's age and years of membership equals or exceeds 100 years.
Pappas was elected IEEE Fellow in 2006 "for contributions to halftoning, video analysis, and compression."
In 2019, Pappas received the IEEE Signal Processing Society Leo L. Beranek Meritorious Service Award "for exemplary service to and leadership in the Signal Processing Society." He served as editor-in-chief of the IEEE Transactions on Image Processing (2010-12), chair of the IEEE Image and Multidimensional Signal Processing Technical Committee (2002-03), technical program co-chair of the IEEE International Conference on Image Processing (ICIP) (2001 and 2009), elected member of the board of governors (2005-07) and vice president-publications (2015-17) of the Signal Processing Society of IEEE.
Pappas was also elected fellow of SPIE (2007), the international society for optics and photonics, and fellow of the IS&T, the Society for Imaging Sciences and Technology (2016). He served as co-chair of the SPIE/IS&T Human Vision and Electronic Imaging conference (1997-2018). Since 2018, he has served as founding co-editor-in-chief of the IS&T Journal of Perceptual Imaging.
Pappas's research is at the intersection of human perception and electronic media, with focus on image and video analysis, quality, and compression, content-based retrieval, and tactile and multimodal interfaces.
Prior to joining Northwestern in 1999, he was a member of the technical staff at Bell Laboratories in Murray Hill, New Jersey, for 12 years.
Pappas earned a master's degree and PhD in electrical engineering and computer science and a bachelor's degree in electrical engineering, all from the Massachusetts Institute of Technology.