IEEE Honors Aggelos Katsaggelos as a Life Fellow Member
The lifetime distinction recognizes significant contributions to one's field of study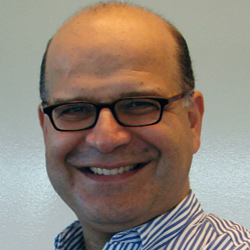 Aggelos K. Katsaggelos, the Joseph Cummings Professor of Electrical and Computer Engineering and (by courtesy) of computer science at Northwestern Engineering, and of radiology at Northwestern's Feinberg School of Medicine, has been elevated to a Life Fellow member by the Institute of Electrical and Electronics Engineers (IEEE).
Katsaggelos was elected as an IEEE Fellow in 1998 "for contributions to the theory and application of iterative image restoration methods." The designation recognizes members whose accomplishments provide value to society and have led to the significant advancement or application of engineering, science, and technology. The total number of Fellows selected in any one year does not exceed one-tenth of one percent of the total voting Institute membership.
The distinction of Life Member is granted to an IEEE member who has reached 65 years old and has been a member of IEEE (or one of its predecessor societies) for such a period that the sum of the member's age and years of membership equals or exceeds 100 years.
"I feel honored to have achieved the highest membership grade of the IEEE," Katsaggelos said. "This is the society I grew up with professionally and I am looking forward to serving it for many years to come."
Katsaggelos directs the Image and Video Processing Lab. The interdisciplinary team's research interests include machine learning, deep learning, and other data science techniques; artificial intelligence in medicine and medical imaging; signal processing and image restoration techniques; developing algorithms to study artwork; and computational imaging.
Katsaggelos is also a codirector of the Northwestern University and Art Institute of Chicago Center for Scientific Studies in the Arts, a collaboration in conservation science that pursues objects-based and objects-inspired scientific research to advance the role of science within art history, curatorial scholarship, archaeology, and conservation.
He is also the deputy director of computation at the Feinberg School of Medicine Center for Computational Imaging and Signal Analytics in Medicine within the Institute for Augmented Intelligence in Medicine. At the intersection of medicine, computing, engineering and informatics, the center is advancing machine learning applications in healthcare.