Alexandra Day Awarded National Science Foundation Graduate Research Fellowship
Day was recognized for her demonstrated potential for significant research achievements in STEM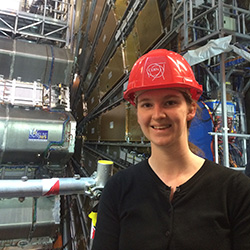 Northwestern Engineering computer engineering (CE) PhD student Alexandra Day has been awarded the National Science Foundation's (NSF) Graduate Research Fellowship (GRF). The highly selective, prestigious five-year fellowship recognizes outstanding individuals early in their graduate careers who are pursuing a full-time, research-based graduate degree in science, technology, engineering, and mathematics (STEM) or in STEM education.
"I am thrilled to receive this fellowship and I am honored that the NSF is investing in my graduate education," Day said. "My background is in physics and math, so I bring a unique perspective to my research and coursework in CE. The GRF will allow me the freedom to explore my diverse research interests across academic disciplines."
Day is currently collaborating with a Northwestern Engineering team in materials science and engineering on a project that uses machine learning to analyze nanoparticle images. She aims to use computer engineering to make machine learning more scalable and accessible to non-experts.
"I've been able to use some of the most powerful computers in the world, and I'm fascinated by how these machines are designed and built," Day said. "Using a supercomputer is completely different than using a desktop computer. To optimize performance on a supercomputer, a researcher must have a deep knowledge of computer science as well as computer hardware, and I love this challenge."
Day is working on research projects at the intersection of machine learning and high-performance computing, advised by Alok Choudhary, the Henry and Isabelle Dever Professor of Electrical and Computer Engineering and (by courtesy) of computer science at McCormick School of Engineering, and the director of the Center for Ultra-scale Computing and Information Security.
Day received a bachelor's degree in physics with a mathematics minor from Wellesley College. She has interned at the National Institutes of Technology, the European Organization for Nuclear Research, the University of Maryland, and the Obama White House. She also worked full-time at MIT Lincoln Laboratory for five years prior to attending Northwestern.