ECE Student Elizabeth Zidar Shares Perspective on ECEDHA Internship
At the beginning of 2020, electrical and computer engineering (ECE) student Elizabeth Zidar ('22) planned to spend the summer studying abroad in Berlin. Her trip was cancelled when the COVID-19 pandemic hit in early spring, leaving her and many of her peers wondering what to do next.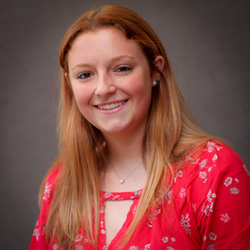 Zidar started looking for internships. In June, she landed one with the Electrical and Computer Engineering Department Heads Association (ECEDHA), the leading association for electrical and computer engineering educators. The association needed help organizing virtual events and webinars, and Zidar joined the team to support their transition to virtual programming.
We asked Zidar to share lessons she has learned during her internship and how she plans to use her experience in the future.
Q: What are some of your main responsibilities as an ECEDHA intern?
My early responsibilities included building the ECE Lab Pros Network database (to which I added almost 500 lab pros from more than 200 universities), helping to plan and participate in monthly webinars and workshops, and writing articles for the ECE Source eNewsletter. Additionally, I was the chair and moderator of an ECE student panel session at the first-ever ECEDHA Summit Series in December 2020.
Q: What are the top lessons you've learned so far during your internship? 
My outsider's perspective was very helpful to the ECEDHA team. I noticed things they might have missed in projects they had been working on for a while. Our team was small (only nine people), so I learned quickly that I had to make my voice heard and couldn't hide behind anybody else. I was told from day one that my insights were just as important as any other team member's, even though I was new and just an intern, and I definitely became more confident speaking up in meetings as time went on.
It is very easy to point out flaws and problems with an idea, but it is so much more valuable to also present suggested solutions along with them. I realized that the best emails or write-ups would highlight a problem and introduce a few ideas for how to address that problem. This strategy worked really well for me this summer because the team would have time to think about all of my suggestions and we could brainstorm more at the next meeting.
I met a lot of new people this summer through the ECE Lab Pros Network and for the student panel at the summit series, so I definitely learned how to run meetings (specifically, over Zoom) and write agendas and follow-up summaries. I became much more comfortable reaching out to new people and setting up calls.
Q: How has your experience at Northwestern prepared you for your internship?
A lot of my time this summer was spent sharing stories about my ECE education before and during this pandemic. I was usually the only current ECE student attending the Lab Pros Network webinars, so I was regularly asked about my remote education experience and how I would improve it from a student perspective. This was a major reason we came up with the idea to do a panel of ECE students at the summit series in December. I was the chair and moderator and had been in charge of the planning, but I had never led anything at this scale before. 
My experiences in Design Thinking and Communication (DTC) helped prepare me the most for this panel. I had to be ready to address our clients according to an agenda I made with my team and answer questions about our work. That was the first time I had been in charge of a meeting in any professional setting. The experiences I had in giving presentations during both DTC quarters were fundamental in building my confidence. I would have never guessed that I would feel comfortable moderating a discussion with more than 100 ECE professors and educators and lab pros, but it ended up being a very successful session with great audience engagement.
Q: What has surprised you most about your internship?
I was pleasantly surprised by the number of women on the ECEDHA team. There were eight other people with whom I regularly met throughout the week, and five of them were women. I think this was a major factor in how comfortable I felt sharing my ideas right away and speaking up in meetings. Even over Zoom, there was such a positive atmosphere of collaboration. I always felt like my voice was being heard. It was also very refreshing, as a student, to see how much brainstorming and hard work all of my professors were doing over the summer in order to make virtual education better for their students.
Q: How has your internship influenced your plans for the future? 
Because I have been involved in so many discussions about online learning, I am very invested in learning about new and creative methods people are using for virtual education. I ask all of my friends about their different lecture styles or labs every quarter, and I am genuinely interested in their thoughts about them.
I also formed many new relationships with my professors by setting up a meeting to discuss their online teaching methods or by inviting them to my panel at the ECEDHA Summit Series. I enjoy some of my classes much more now that I have directly seen the work that my professors put into each course. I have even chosen to take certain courses with professors I have gotten to know better through ECEDHA. I gained a lot of confidence in my position as a leader because of my internship, and I think that has greatly improved my communication skills, especially with professors.