Alumnus, Former Department Advisory Council Chair John "Jack" A. Dever Passes Away
Dever ('51) was a longstanding advocate and supporter of Northwestern Engineering
Northwestern University electrical engineering alumnus and former chair of the department advisory council John "Jack" A. Dever ('51), passed away at age 92 on July 26, 2021.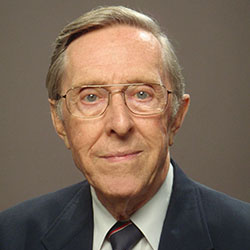 An ardent supporter of Northwestern Engineering, Dever was a longstanding member of the McCormick Advisory Council and the Walter P. Murphy Society, a donor organization that assists Dean Julio M. Ottino in making funding decisions for special projects that shape the future of engineering education and research at Northwestern.
In 2015, Dever made a generous gift to create an endowed chair in the Department of Electrical Engineering and Computer Science. After the department separated in 2018, the endowed chair was transitioned to the Department of Electrical and Computer Engineering.
"Jack was an expectational person and a truly devoted supporter of ECE. It was a privilege to have known him. His many years of support have had a substantial and lasting impact on the department," said Randall Berry, the John A. Dever Chair of Electrical and Computer Engineering.
Dever established a named professorship – the Henry and Isabelle Dever Professor of Electrical Engineering – in honor of his parents, who were also alumni of Northwestern. Professor Alok Choudhary currently holds this position. In addition, Dever funded two John A. Dever Graduate Fellowships in the department.
After obtaining a degree in electrical engineering from Northwestern University in 1951, Dever attended the Oak Ridge School of Reactor Technology in Tennessee for one year. He dedicated his professional career to the field of instrumentation and process control, specializing in nuclear measurement and safety controls for atomic power. Dever retired from the industrial division of Honeywell Inc. in 1989 after 40 years of service in positions including director of engineering and managing director.
Following his retirement, Dever served on the board of directors of the Mountainview Lake Estates community association in Scottsdale, Arizona, for 24 years.
Dever also pursued creative interests and hobbies. An avid world traveler, Dever visited more than 65 countries and produced more than 20 documentaries studying the natural world. He also spent 12 years in various roles with the Music Theater of Abington, Pennsylvania, including cast member, scenic designer and painter, producer, business manager, and audio recordist.
Dever earned a Northwestern Alumni Service award in 1993 in recognition of his leadership activities, including alumni club president of the NU Club of Phoenix and the Alumni Regent for Arizona.