Thrasos Pappas Receives Signal Processing Society Service Award
The Signal Processing Society (SPS), the world's premier association for signal processing engineers and industry professionals, awarded Northwestern Engineering's Thrasos Pappas the 2019 Leo L. Beranek Meritorious Service Award.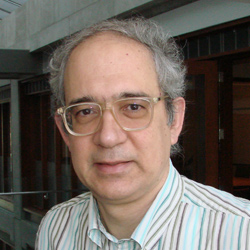 The award recognizes exemplary service to and leadership in the SPS. The SPS will present the award in Barcelona, Spain at ICASSP 2020, known as the world's largest and most comprehensive technical conference on signal processing.

Pappas, a professor of electrical and computer engineering, was elected in 2014 to serve as vice president-publications of the SPS for a term of three years. In this role, Pappas served as chair of the organization's Publications Board.

Pappas's research interests focuses on image and video quality and compression, image and video analysis, content-based retrieval, perceptual models for multimedia processing, medical image analysis, model-based halftoning, and tactile and multimodal interfaces.