Prof. Choudhary Selected to the Secretary of Energy's Advisory Board (SEAB) AI Working Group
He will serve on the working group for artificial intelligence
Northwestern Engineering's Alok Choudhary was selected to participate in the US Secretary of Energy's Advisory Board (SEAB) working group for artificial intelligence (AI).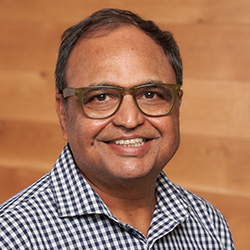 Through the AI working group, Choudhary, Henry and Isabelle Dever Professor of Electrical and Computer Engineering, will provide expertise that helps shape the future course of the US Department of Energy (DOE).
SEAB provides advice and recommendations to the Secretary of Energy on energy policies, basic and applied research and development activities, and economic and national security policy, along with any other DOE activities.
Choudhary's research focuses on big data science, supercomputing, scalable data mining, and machine learning, and their applications in sciences, medicine, and business. Choudhary is also the founder of 4Cinsights Inc., a data science company that provides SaaS for marketing and advertising.