Trajcevski is Program Committee Co-Chair of ACM SIGSPATIAL GIS 2016
More than 330 researchers, practitioners and students participated in the 24th annual conference, held Oct. 31 through Nov. 3.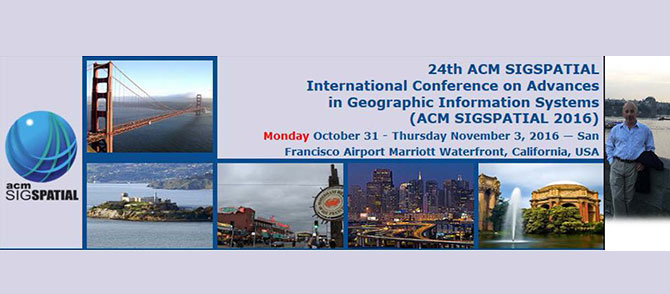 The ACM SIGSPATIAL International Conference on Advances in Geographic Information Systems 2016 (ACM SIGSPATIAL 2016) is the twenty-fourth event in a series of symposia and workshops that began in 1993 with the aim of bringing together researchers, developers, users, and practitioners in relation to novel systems based on geo-spatial data and knowledge, and fostering interdisciplinary discussions and research in all aspects of geographic information systems. The conference provides a forum for original research contributions covering all conceptual, design, and implementation aspects of geospatial data ranging from applications, user interfaces, and visualization to data storage and query processing and indexing. The summit is the premier annual event of the ACM Special Interest Group on Spatial Information (ACM SIGSPATIAL).
Prof. Goce Trajcevski was selected as Co-Chair of the Program Committee (PC) together with Dr. Siva Ravada (Oracle) and Prof. Matthias Renz (Georga Mason University). The PC had 108 regular members, experts from academia and industry; and 19 Meta-Reviewers (senior researchers/practitioners) overseeing the process of evaluating the submitted works.
In addition to the regular Research Papers, the conference also has Industrial Experience and Systems Track; Demonstration papers; and Vision Papers. ACM SIGSPATIAL conference also has a programming contest (ACM SIGSPATIAL CUP) where teams of students from different universities compete on providing elegant and robust solutions to geospatially-focused problems.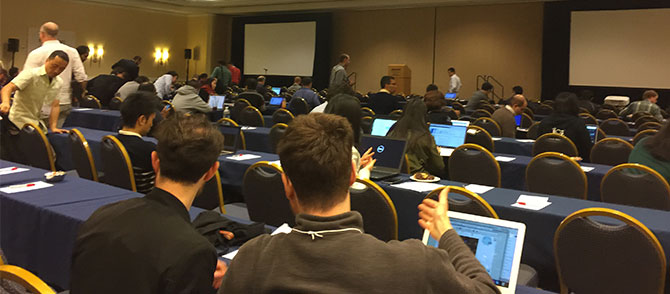 Trajcevski was (re)selected to be the PC co-Chair for ACM SIGSPATIAL GIS 2017. The list of topics of interest spans through:
    Cartography and Geodesy
    Computational Geometry
    Computer Graphics Applications
    Computer Vision Applications
    Distributed and Parallel Algorithms
    Earth Observation
    Geographic Information Retrieval
    Geospatial Architectures and Middleware
    GPU and Novel Hardware Solutions
    Human Computer Interaction and Visualization
    Image and Video Understanding
    Location-Based Services
    Location Privacy, Data Sharing and Security
    Mobile Systems and Vehicular Ad Hoc Networks
    Object Tracking and RFIDs
    Performance Evaluation
    Photogrammetry
    Similarity Searching
    Spatial Analysis and Integration
    Spatial and Spatio-Temporal Data Acquisition
    Spatio-Temporal Data Analysis
    Spatial Data Mining and Knowledge Discovery
    Spatial Data Quality and Uncertainty
    Spatial Data Structures and Algorithms
    Spatial Data Warehousing, OLAP, and Decision Support
    Spatial Information and Society
    Spatial Modeling and Reasoning
    Spatial Query Processing and Optimization
    Spatio-Temporal Data Management
    Spatio-Temporal Sensor Networks
    Spatio-Temporal Stream Processing
    Spatio-Textual Searching
    Standardization and Interoperability
    Storage and Indexing
    Traffic Telematics
    Transportation
    Urban and Environmental Planning
    Visual Languages and Querying
    Web and Real-Time Applications