55 NU Women In Computing (WIC) Members Attend 2016 Grace Hopper Conference
The women attended the conference, which spans three days of networking events, tech talks, and a giant career fair attended by some of the most prominent tech companies.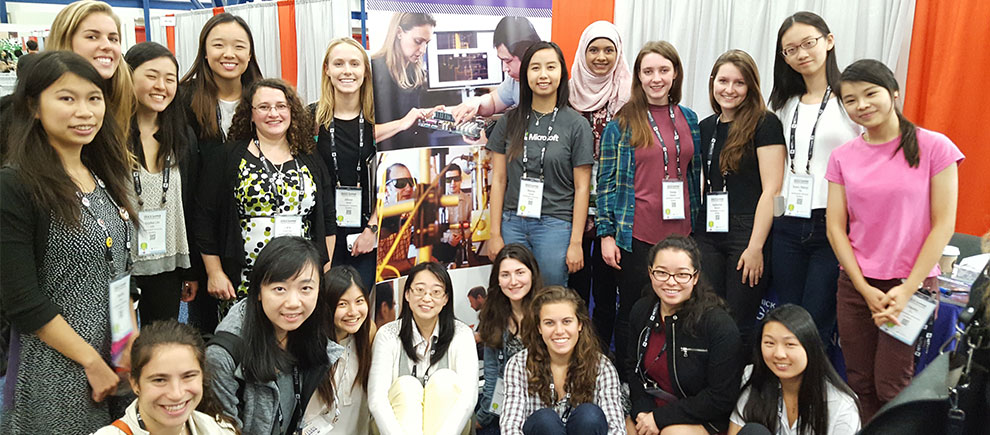 For as far back as the 1980's, women have long been a minority in the field of science, technology, engineering, and math. Despite the fact that the number of females in STEM has increased as time went on, there is still presently a sharp divide between the number of men and women in technology. However, since 1994, the presence of women in technology is celebrated each year at the Grace Hopper Celebration for Women In Computing (GHC). This year, over 16,000 people attended, including 55 students and faculty from Northwestern University's Women In Computing (WIC).
On Tuesday, October 18, the Northwestern women left Evanston for Houston, TX to attend the conference, which spans three days of networking events, tech talks, and a giant career fair attended by some of the most prominent tech companies. Attendees can listen to motivational presentations given by other successful women in technology or network with recruiters and possibly find their dream job.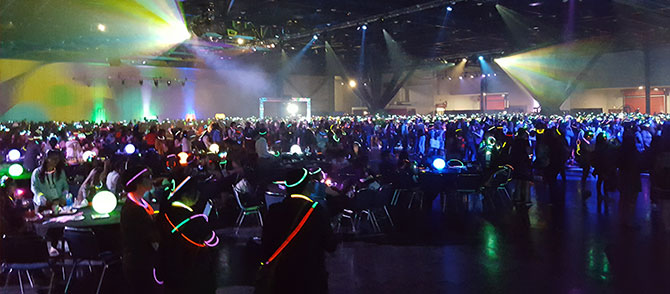 The conference kicked off early Wednesday morning at the Toyota center, where attendees listened to a keynote given by Harvard Professor Latanya Sweeney. She talked about cyber security and the ethical implications of data. Her speech was inspiring and well-received. "Not only did [Dr. Sweeney] discuss the importance of cyber security and privacy, she spoke about how she became so successful as a young woman of color in a male-dominated field", said one Northwestern attendee, "She was just so incredibly inspiring, smart and awesome". The second keynote was given by IBM CEO and Northwestern alumna Ginni Rometty, who led a panel of female IBM engineers, and discussed their secrets in becoming the successful leaders that they are.
Afterwards, attendees had the opportunity to network with companies at the GHC career fair, and some even got interviews on the spot. Out of the Northwestern delegation, over 50% had at least 2 or more interviews on-site at Grace Hopper. More than 25% had interviews scheduled after the conference is over, and some even walked away with job offers. However, since the job fair was so big, it could be a little overwhelming for first-time attendees. To make the most of the career fair, one Northwestern student's advice is to "just be yourself and think more about learning about the companies than putting pressure on yourself to meet every company." Another student said that "[she wished she] came more prepared with [her] elevator pitch and identifying/explaining [her] interests".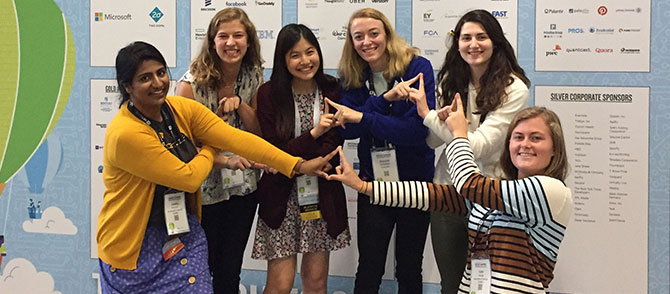 However, for some other attendees, the career fair was a catalyst that helped them identify the professional fields that they were interested in. Through talking to people who are experienced in all fields, some students were able to get a better idea of how each sector of the tech industry works, and can use that information in choosing the right career for them in technology. Many students reported that going to Grace Hopper cemented their pursuits in choosing computer science as a major and as a future career option.
In a span of just three short days, Northwestern attendees landed cumulatively over 100 interviews with top tech companies such as Google, Facebook, Apple, and many more. In regards to the career fair, Northwestern Senior and Women In Computing (WiC) Co-President Alaina Kafkes has some words of wisdom for future GHC attendees. "Strive for balance," She says. "Going to the career expo will likely lead to some interviews or even a job, but the moments you spend with your fellow women in tech are what make GHC special."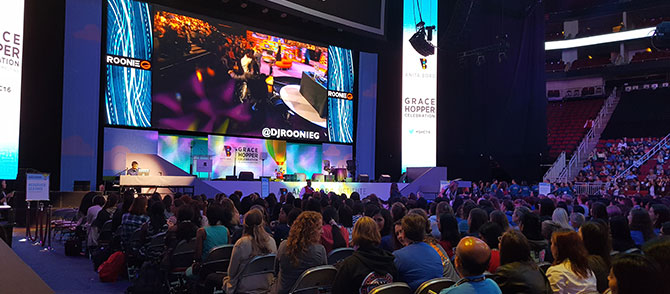 In addition to the career fair, students also attended talks given by successful leaders in technology. Some of the many topics included Data Science, Human-Computer Interaction, Product Management, and Software Engineering. Attendees can choose talks based on their interests and passions, such as the lectures WiC Co-President Meg Grasse chose to pursue. "I'm very passionate about tearing down the barrier to entry in computer science, whether that be for women, for people of color, for those of low socio-economic background, et cetera," said Grasse. "I went to a talk about how can we economically empower those of low income with tech and I learned about the impact of not having female role models in tech, and how important it is for all of us to take charge of our role in tech and potentially act as female role models for others."
Another popular talk was given by Pixar, which explained the technologies used in creating life-like animations. Favorite Pixar Movies such as Brave, The Incredibles, and Wall-E were used as demos in showing the different stages of the animation process and the techniques used to achieve the life-like effects.
Several students even had the opportunity to meet tech celebrities, such as Twitter CEO Jack Dorsey, Cisco Vice President Liz Centoni, and United States CTO Megan Smith, who gave the closing keynote. Many Northwestern attendees said that the highlight of their conference was being able to meet these individuals on a personal level and hear them talk about their experiences.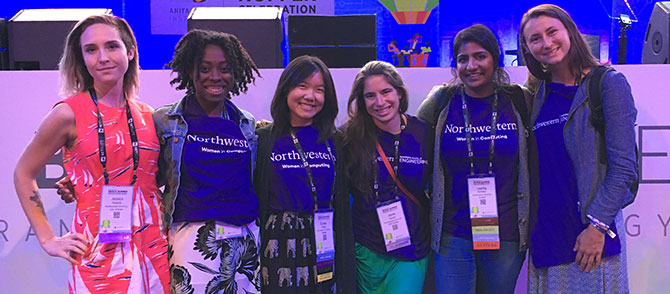 "Personally, the Grace Hopper Conference was one of the most motivating, inspiring, and humbling experiences of my life", one first-time Northwestern attendee stated. "Being surrounded by so many successful female leaders and role-models, I realized that there is so much more that we can learn about the field of computer science". However, the good news for Northwestern students is that there are many inspiring people in the community whom aspiring women in tech can learn from. Resources include professors, industry leaders, and even other students who share the same passion for technology and computing. "It was very cool and motivating to talk to so many awesome women that I randomly ran into about their projects and goals," said GHC attendee Aiqi Liu, Northwestern junior and WiC Corporate Outreach Chair.
Grace Hopper taught all attendees that even the most successful women deal with feelings of self-doubt sometimes, and that nobody is ever alone in dealing with these issues. The key is to overcome it with confidence, ability, and the motivation to work harder to succeed. There is a future for women in technology, and that future has never been brighter.
Computer Science student Allison Lu contributed to this report.