Hardavellas Presented with NSF CAREER Award
Prof. Nikos Hardavellas, June and Donald Brewer Junior Professor has been awarded the prestigious Faculty Early Career Development (CAREER) Award from the National Science Foundation (NSF).
Prof. Hardavellas is among a select number of Northwestern University faculty members to receive the prestigious distinction. The award recipients' areas of research include: computational photography, modulation of the immune system, computational design of new materials, engineering microbes for biofuels, chemicals and drugs, and functional analysis in mathematics.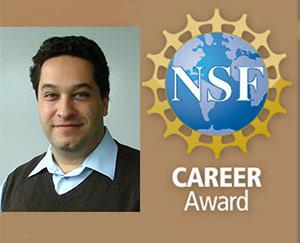 With his CAREER award project, Prof. Hardavellas goal is to use nanophotonics to design novel, energy-efficient computing processor architectures that break free of current area, power, bandwidth, and yield constraints of traditional chip designs. By using nanophotonic interconnects, he will design systems that break free of the limitations of conventional single-chip designs. He received the award for his proposal "Energy-Efficiency and Energy-Proportional Silicon-Photonic Manycore Architectures."
The CAREER award, the NSF's highest honor for junior faculty members, supports early career development of individuals who exemplify the role of teacher-scholar through outstanding research, excellent education and the integration of education and research. The minimum CAREER award size is $400,000 for a five-year period.
Read a Friday, March 27, 2015 article published by McCormick, titled,"Five McCormick Professors Receive Prestigious Honor for Young Faculty."