EECS in ICDE 2014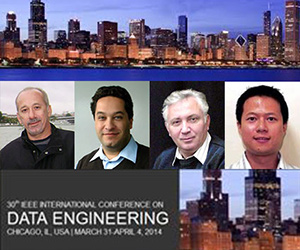 Goce Trajcevski, Assistant Chairman & Senior Lecturer is the General Co-Chair of the 2014 IEEE International Conference on Data Engineering (ICDE), which will be held in Chicago, IL on March 31-April 4.
Other EECS faculty members appointed to the Organizing Committee of the conference, include Nikos Hardavellas being Finance Chair and Peter Scheuermann being Tutorial Co-Chair and Xin Chen as Local Chair.
The annual ICDE conference, now in its 30th year, addresses research issues in designing, building, managing, and evaluating advanced data-intensive systems and applications. It is a leading forum for researchers, practitioners, developers, and users to explore cutting-edge ideas and to exchange techniques, tools, and experiences.
EECS Researchers also have the paper, titled, "Silverback: Scalable Association Mining For Temporal Data in Columnar Probabilistic Databases", accepted at ICDE (co-authored by; Yusheng Xie, Diana Palsetia, Yu Cheng, Ankit Agarwal, Goce Trajcevski, Alok Choudhary).
Proposed Program at a Glance for the Event
Monday March 31 2014         
 
Details and locations of individual workshops will be available soon    
8:30am-10:00am    Workshops    
 
10:00am-10:30am    Coffee Break    
 
10:30am-12:00pm    Workshops    
 
12:00pm-1:30pm    Lunch    
 
1:30pm-3:00pm    Workshops    
 
3:00pm-3:30pm    Coffee Break    
 
3:30pm-5:00pm    Workshops    
Tuesday April 1 2014    

Details about the locations of individual sessions will be available soon    
 
8:30am-9:00am    Opening remarks:    
 
9:00am- 10:00am    Keynote Talk: - Anastasia Ailamaki    
 
10:00am-10:30am    Coffee Break    
 
10:30am-12:00pm    Research Papers Session 1 Clustering
Research Papers Session 2 Distributed Processing
Research Papers Session 3 Data Mining I: Outliers and Time Series                
 
12:00pm-1:30pm    Lunch    
 
1:30pm-3:00pm    Research Papers Session 4 Pareto Optimization
Research Papers Session 5 Keyword Search I: Spatial
Research Papers Session 6 Graphs I: Fundamental Algorithms                
 
3:30pm-3:30pm    Coffee Break    
 
3:30pm-5:00pm    Research Papers Session 7 Schema Matching and Cleaning
Research Papers Session 8 Keyword Search II: Privacy and Social Data
Research Papers Session 9 Graphs II: Ranks and Communities                
 
5:30pm-7:00pm    Reception and Posters    
 
Wednesady April 2 2014  
 
Details about the locations of individual sessions will be available soon    
 
8:30am-9:00am    TCDE Chair's Report and TCDE Awards    
9:00am- 10:00am    Keynote Talk: Amith Sheth         
 
10:00am-10:30am    Coffee Break    
                      
10:30am-12:00pm    Research Papers Session 11 Temporal and Event Data
Research Papers Session 12 Personalized Data Management
Research Papers Session 13 Data Mining II: Pattern Discovery                
 
12:00pm-1:30pm    Lunch    
          
1:30pm-3:00pm    Research Papers Session 14 Data Warehousing
Research Papers Session 15 Query Optimization
Research Papers Session 16 Graphs III: Distributed Processing                
 
3:30pm-3:30pm    Coffee Break    
 
3:30pm-5:00pm    Research Papers Session 17 Main-Memory Databases
Research Papers Session 18 Privacy and Security
Research Papers Session 19 Transaction Management                
          
6:30pm-10:00pm    Banquet and Social Event    
 
Thursday April 3 2014    

Details about the locations of individual sessions will be available soon    
          
8:30am-9:00am    ICDE Award Presentation    
 
9:00am- 10:00am    10 Year most influential paper         
 
10:00am-10:30am    Coffee Break    
 
10:30am-12:00pm    Research Papers Session 21 Multidimensional Search
Research Papers Session 22 Similarity Joins 
Research Papers Session 23 Subgraph Mining and Matching                
 
12:00pm-1:30pm    Lunch    
 
1:30pm-3:00pm    Research Papers Session 24 Social Contents
Research Papers Session 25 Uncertain and Probabilistic Data
Research Papers Session 26 XML and Tree Data                
 
3:30pm-3:30pm    Coffee Break    
 
3:30pm-5:00pm    Research Papers Session 27 Crowdsourcing
Research Papers Session 28 Spatial and Location Data    
Research Papers Session 29 Data Flow and Profiling