Contact or Visit Us
Mailing Address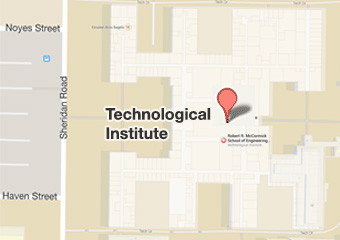 Robert R. McCormick School of Engineering and Applied Science
Technological Institute
2145 Sheridan Road
Evanston, IL 60208
Tech Room Finder
Find the location and directions to a room or person in the Technological Institute ("Tech"), the main building for McCormick on the Northwestern Campus.
Addresses and Maps for Other McCormick Buildings
Ford Motor Company Engineering Design Center
Mudd Hall
Catalysis Center
Ryan Hall
Cook Hall
Chambers Hall
Silverman Hall
Hogan Building
1801 Maple Avenue
1007 Church Street
Jump to a Section
Undergraduate Education
For information sessions
Office of Undergraduate Engineering
Location: Tech L269
Phone: 847-491-7379
Fax: 847-491-5341
Email the Office of Undergraduate Engineering
Graduate Education
To discuss graduate programs and how to apply
Contacts vary by program. Please visit the McCormick Office of Graduate Studies for instructions on who to contact.
Summer Programs for Pre-college Students
Center for Talent Development
Phone: 847-491-3782
Fax: 847-467-4283
ctd@northwestern.edu
For Corporations and Employers
Certification, Degree, Enrollment Verification
Please follow the step-by-step process for verification through the Office of the Registrar or contact the University's authorized agents, the National Student Clearinghouse.
National Student Clearinghouse
Phone: 703-742-4200
Fax: 703-742-4239
Email Clearinghouse
Mailing Address
National Student Clearinghouse
1354 Sunrise Valley Dr., Ste. 300
Herndon, VA 20171
For Employers Seeking Interns, Co-Ops, and Full-Time Candidates
Erik J. Friedman

Assistant Dean and Senior Director
McCormick Office of Career Development
erik.friedman@northwestern.edu
To Recruit Our Engineering Talent or Sponsor a Research Project
McCormick Office of Corporate Engagement
Phone: 847-491-8670
For Employers Seeking Northwestern Alumni Candidates
Northwestern Career Advancement
Phone: 847-491-3700
nca@northwestern.edu
Press Inquiries
Alex Gerage
Director of Communications
Phone: 847-467-4953
alexander.gerage@northwestern.edu
Information Technology
General Questions and Assistance
help@mccormick.northwestern.edu
For website inquiries or problems
webmaster@mccormick.northwestern.edu
Visit the McCormick IT website
Facilities
To Reserve Rooms in the Tech Building
Office of the Registrar
Rooms may be reserved using res.northwestern.edu. The room reservation system is accessible to University personnel.
Offices and Services
View descriptions and contact information for our Offices and Services at the McCormick School of Engineering.
Lost and Found
The Office of Undergraduate Engineering (Tech L269 — Map it) serves as a repository for any items found in any part of the Tech building and surrounding grounds. Please fill out the Lost and Found Inquiry Form. You can also visit Tech L269 to check the collection bin.
More in this section