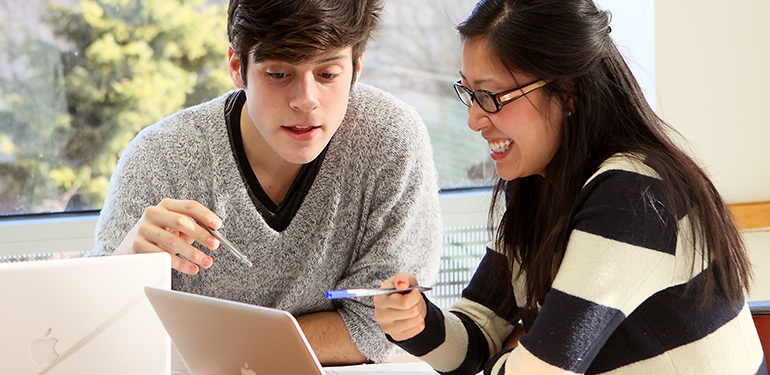 Core Curriculum
McCormick's undergraduate curriculum is carefully designed to help our students become whole-brain™ engineers. We embrace a forward-reaching approach to teaching engineering fundamentals, and continue our longstanding effort to ensure our graduates are great people, not just great engineers.
Our curriculum follows rigorous standards established by professionals throughout the field and includes coursework, collaborative, hands-on projects, and innovative research.
Comprised of two integrated course sequences, Engineering Analysis and Design Thinking and Communication (DTC), our innovative first year curriculum provides students with the fundamentals of a successful engineering education, and lets them experience real engineering early in their undergraduate careers.
To help our students become well-rounded engineers, the Theme Requirement calls for McCormick students to develop an area of competency related to the humanities. To fulfill the requirement, each student selects a set of related courses built around one central "theme" or topic of interest to the student.
Students must successfully complete all 48 units of the curriculum or have equivalent academic credit. Students who interrupt their programs of study for an extended time during which degree requirements are changed will normally be held to the new requirements. Those who encounter curricular changes during their period of enrollment may choose to follow any curriculum during that period but must meet its requirements completely.
All curricula leading to a bachelor of science degree in engineering or applied science have the same basic components: mathematics, engineering analysis and computer proficiency, basic sciences, design and communications, basic engineering, social sciences/humanities, unrestricted electives, and the major program. General requirements are as follows:
Mathematics (4 units)
Engineering analysis and computer proficiency (4 units)
Basic sciences (4 units)
Design and communications (3 units)
Basic engineering (5 units)
Social sciences/humanities (7 units)
Unrestricted electives (5 units)
Major program (16 units)
Specific requirements vary by year, please check the appropriate catalog for details.
McCormick Undergraduate Catalog 2016-2017 (pdf)
McCormick Undergraduate Catalog 2015-2016 (pdf)
McCormick Undergraduate Catalog 2014-2015 (pdf)
McCormick Undergraduate Catalog 2013-2014 (pdf)
McCormick Undergraduate Catalog 2012-2013 (pdf)
McCormick Undergraduate Catalog 2011-2012 (pdf)
See the Office of the Registrar for complete academic details.
More in this section