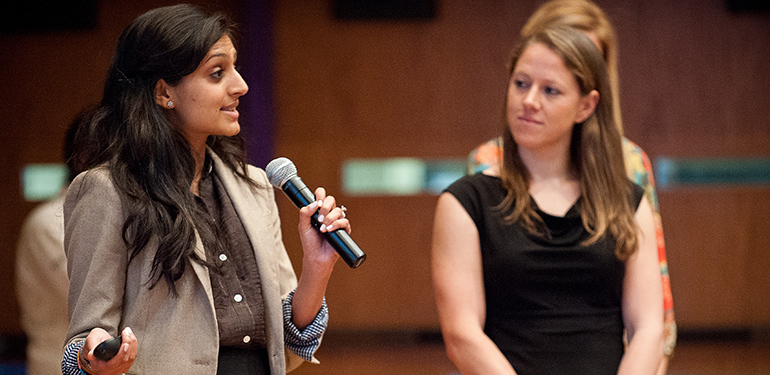 Graduate Study
The McCormick School of Engineering and Applied Science is committed to training whole-brain™ engineers who can address the most pressing problems facing society today. Graduate study at McCormick prepares students to take the lead in this fast-changing world.
Prepare for Your Career
Renowned faculty, state-of-the-art facilities, and access to neighboring institutions like Argonne National Laboratory give McCormick graduate students excellent preparation for their careers.
With a wide selection of full- and part-time graduate programs covering diverse areas of study, McCormick provides you with the tools you need to:
Conduct research at the boundaries of disciplines and make fundamental contributions to your field.
Prepare for a career in academia.
Position yourself for a hands-on leadership role in the engineering workforce.
Discover Opportunities for Entrepreneurship and Innovation
McCormick is at the center of a dynamic ecosystem of entrepreneurship and innovation, in which students and faculty continually seek opportunities to learn about and develop new technologies and business enterprises.
McCormick's entrepreneurship resources include:
Be Part of an Active Community
Join a thriving community of students, faculty and staff eager to take leadership roles and gain experience both in and out of the classroom.
The McCormick Graduate Leadership Council (MGLC) helps build graduate student community within McCormick by organizing social, academic, and professional activities and facilitating communication between graduate students and the dean's office.
Students also participate in Northwestern's Graduate Student Association or in one of several department-centered student groups.
Learn more about graduate student groups at McCormick
Develop Your Leadership and Business Skills
In addition to faculty support through our degree programs, McCormick offers several resources to help develop your professional skills:
Learn how McCormick can help you reach your career and professional development goals
Make Your Education Interdisciplinary
Several graduate programs combine curricula and research from multiple departments and disciplines, including the Weinberg College of Arts and Sciences and the Feinberg School of Medicine. In addition, graduate students regularly work with institutions around Chicago and other universities.
Explore all the options for graduate study at McCormick
Learn how to add an interdepartmental minor to your master's degree
Conduct Groundbreaking Research
Far beyond simply understanding existing knowledge, researchers at McCormick are focused on discovering new knowledge and technologies, often through interdisciplinary research. This has led to active collaborations both inside and outside Northwestern, from the Feinberg School of Medicine to Argonne National Laboratory.
With growing support from both government sources and corporations, researchers at Northwestern have built dynamic, interdisciplinary networks as they collaborate with more than 20 outside departments at Northwestern and with dozens of universities and research centers worldwide.
Learn more about the dynamic, collaborative research done at McCormick
More in this section