Announcements
Professor Emeritus Stephen Davis Passes Away
Davis was an internationally renowned researcher in fluid dynamics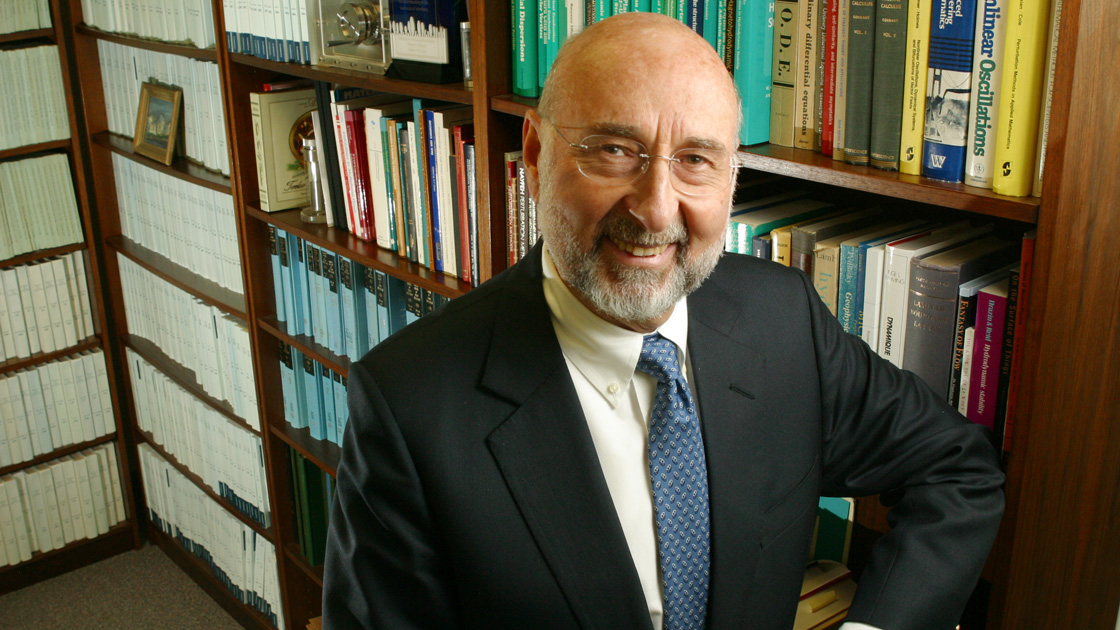 Stephen Davis, Walter P. Murphy Professor Emeritus of Engineering Sciences and Applied Mathematics, passed away at age 82 on November 12, 2021. He will be remembered as a pioneer in fluid dynamics research and for his dedication to Northwestern Engineering.
Davis joined the McCormick School of Engineering in 1979 as a professor in the Department of Engineering Sciences and Applied Mathematics (ESAM) after previously working at Johns Hopkins University and Imperial College London. Early in his career, Davis also worked as a mathematician at RAND Corporation. Holding a bachelor's, master's, and PhD degrees from Rensselaer Polytechnic Institute, Davis served as ESAM department chair from 1988-91. When he retired in 2019, Davis also held courtesy appointments in the mechanical engineering and chemical and biological engineering departments.
Davis's research interests included theoretical fluid mechanics, hydrodynamic stability and interfacial phenomena, materials science, thin films and crystal growth, and asymptotic and variational methods.
"The McCormick School of Engineering wouldn't be what it is today without Stephen Davis," said Julio M. Ottino, Dean of Northwestern Engineering. "He was not just a world-class researcher. What I admired was the elegance of his work. His style affected our culture; he will be sorely missed."
In 1994, Davis's work earned him election to the National Academy of Engineering, where he was recognized for contributions to the mathematics of hydrodynamic stability theory and interfacial phenomena. Election to the American Academy of Arts and Sciences came in 1995, followed by the National Academy of Sciences in 2004.
His other honors included the Fluid Dynamics Prize from the American Physical Society (1994), G.I. Taylor Medal from the Society of Engineering Science (2001), the Royal Academy of Engineering Distinguished Visiting Fellowship, and election into the Academia Europaea.
"Steve's contributions to the ESAM department and McCormick as a whole cannot be overstated," said David Chopp, professor and chair of the Department of Engineering Sciences and Applied Mathematics. "His scientific work and leadership in the field is a major reason why ESAM is so highly regarded today. In addition to his scholarly work, he was also a wonderful colleague who was always friendly and approachable. It has been a tremendous privilege to have worked with him these many years."
An ISI Highly Cited Researcher, Davis authored four books and more than 200 academic publications. Davis's work spanned six decades. He also delivered numerous special lectures, including at Imperial College (London) in 2014 and MIT in 2000.
In 2019, Northwestern Engineering held a daylong symposium in Davis's honor, featuring lectures by four international fluid mechanics and materials science experts. The lecture is now a yearly event, and the 2021 edition was delivered by Harry L. Swinney, professor emeritus of physics at the University of Texas at Austin.
"What Steve meant to Northwestern Engineering and to the fluid dynamics community cannot be summed up into words," said Michael Miksis, professor of engineering sciences and applied mathematics and (by courtesy) mechanical engineering. "Through his mentoring of students and postdocs, his collaborations, and his openness to talk about science and applied mathematics, he has impacted a generation of fluid dynamitists. His work and legacy will endure."