Honors and Awards
Chad Mirkin Wins Prestigious Royal Society of Chemistry Prize
The award celebrates the most exciting chemical science taking place today
Northwestern University's Chad Mirkin has been named the winner of the Royal Society of Chemistry's de Gennes Prize, which celebrates the most exciting chemical science taking place today. Mirkin won the prize for contributions to supramolecular chemistry and nanoscience, in particular the invention and development of methods for nanolithography, high-area rapid printing, and photocontrol in nanoparticle synthesis.
Mirkin is the George B. Rathmann Professor of Chemistry in the Weinberg College of Arts and Sciences and director of the International Institute for Nanotechnology, as well as a professor of chemical and biological engineering, biomedical engineering, and materials science and engineering in the McCormick School of Engineering, and a professor of medicine at the Feinberg School of Medicine.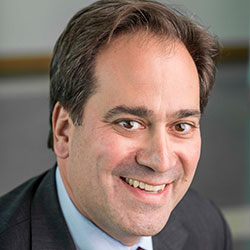 "I am extremely thankful to be chosen by the Royal Society of Chemistry as this year's de Gennes Prize winner," Mirkin said. "The previous recipients of this award are among the best and brightest materials chemists working in the field today, and I am grateful to be counted among their company. I would like to acknowledge my current and former students, postdocs, and collaborators, who have substantively contributed to the areas of research for which I am receiving this prize. I have been very fortunate to have been able to work with such a talented and creative cohort over the years."
Mirkin's research group focuses on developing methods for controlling the architecture of molecules and materials on the 1–100 nm length scale (the nanoscale), with the aim of understanding their fundamental properties, and utilizing these structures to develop novel tools that often outperform the state-of-the-art in the areas of chemical and biological sensing, gene regulation, immunotherapy, lithography, catalysis, optics, and advanced manufacturing, as well as energy generation, storage, and conversion. 
With the de Gennes Prize, Mirkin also receives £3,000 and a medal.
"All of us have experienced tremendous challenges in the last year and the chemical sciences community has been integral to how the world has responded on a number of levels," said Helen Pain, chief executive of the Royal Society of Chemistry. "From developing vaccines for COVID-19 to continuing to work towards a more sustainable world – the contribution of chemical scientists has never been more tangible or important.
"In a recent review of our recognition portfolio, we committed to ensuring that our prizes reflected the incredible diversity and excellence of chemistry being carried out today. Professor Mirkin's work is a prime example of what we are so passionate about and we are proud to recognize his contribution with this prize."
The Royal Society of Chemistry's prizes have recognized excellence in the chemical sciences for more than 150 years. In 2019, the organization announced the biggest overhaul of this portfolio in its history, designed to better reflect modern science.
The Research and Innovation Prizes – of which the de Gennes Prize is one – celebrate brilliant individuals across industry and academia. They include prizes for those at different career stages in general chemistry and for those working in specific fields, as well as interdisciplinary prizes and prizes for those in specific roles. Northwestern's Teri Odom received the Centenary Prize in 2020.
Of those to have won a Royal Society of Chemistry Prize, over 50 have gone on to win Nobel Prizes for their pioneering work, including 2019 Nobel laureate John B. Goodenough.
Earlier this year, Mirkin received the prestigious G.M. Kosolapoff Award for outstanding scientific achievement. The award is presented annually by the Auburn University Department of Chemistry and Biochemistry in conjunction with the Auburn Section of the American Chemical Society.
Mirkin has also been selected for the 2022 Acta Biomaterialia Gold Medal Award, recognizing outstanding contributions to the science and engineering of biomaterials. The award, which includes a $10,000 prize, will be presented at the Society for Biomaterials annual meeting in April 2022.