Cover Story
Better Design Through Humanity
Equipped with a design innovation mindset and toolbox, Northwestern students leave ready to confront society's pressing problems
Now that the world is deep into the data age, it can seem as if "the numbers" have replaced once highly valuable human qualities. When trying to solve some of the world's biggest problems, people tend to consult the numbers rather than the most affected people.
What would happen if we put humans back into the foreground?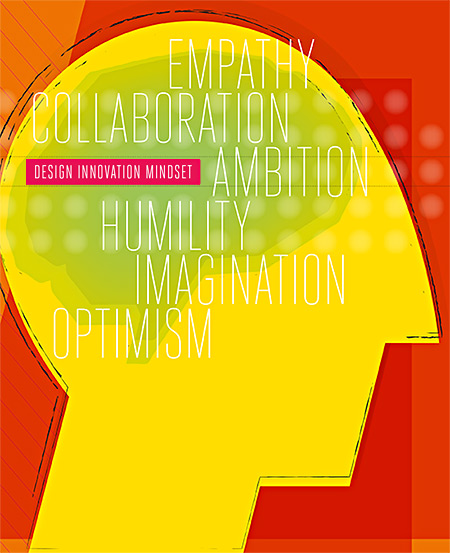 Northwestern engineers believe they can harness some of the non-quantifiable qualities—like empathy and deep human understanding—to solve seemingly unsolvable problems. Not only can this human-centered approach identify the underlying issues with the greatest impact and meaning, it can also produce fast, thorough, transformative solutions that have the power to change lives.
This concept is called Design Innovation. And at Northwestern, it's booming.
For the past 20 years, Northwestern students have learned design innovation skills to uncover richer insights that lead to more meaningful products, services, and systems.
Ironically, as an approach to solving big problems, design innovation appears smaller, more personalized, more specific, more human.
We are coupling the word "Design" with "Innovation" because we are seeking to innovate in a variety of spaces. But we're using design-centric tools both to find and to frame the problem and ideate and iterate solutions.
—Greg Holderfield, Director of the Segal Design Institute

What is Design Innovation?
Design innovation creates value using design-centric tools and frameworks such as empathy, visualization, prototyping, and iteration. By acquiring design innovation skills, students are prepared to find and frame problems, identify opportunities, and innovate across a variety of spaces. They are ready to bring their ideas to life.
The results of design innovation benefit all stakeholders. The end goal does not have to be a product. It can be a service, system, business plan, or experience.
"Innovation is creativity that is implemented," says Elizabeth Gerber, associate professor of mechanical engineering and director of the Segal Design Cluster. "it could just impact one person's life. It could impact a thousand people's lives. But it must influence what we do and how we experience our lives."
Design innovation requires a type of thinking that is truly whole-brain. Innovators must augment their analytical thinking with creativity, which results in a human centered, holistic perspective.
---
Design Research
For design innovation to work, the designer must understand the users in the context of their everday lives, which helps shed light on often unarticulated needs. Elizabeth Gerber says, "We want to know what keeps our users up at night and what gets them up in the morning."
Finding that answer requires a very different method than other types of research.
Design research often relies on small sample sizes
It doesn't just ask what, it asks why
It requires understanding and learning, not proving or justifying
"We are not asserting that design research is better than other types of research," Greg Holderfield says. "All types serve different purposes, and they can often all come together to inform decision making."
---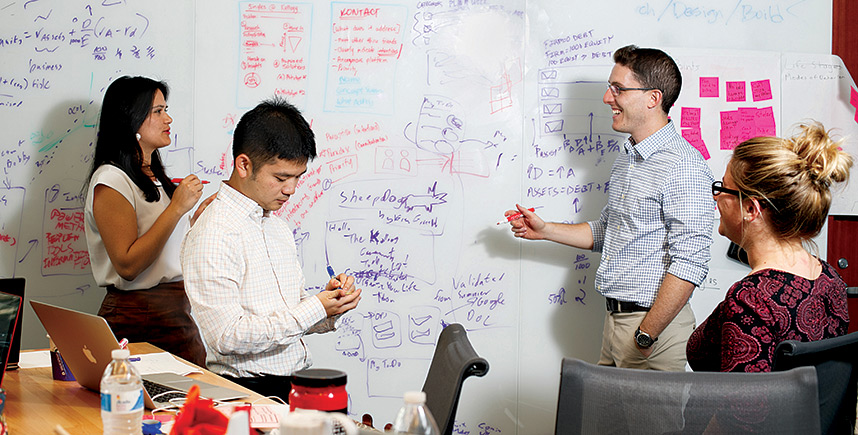 Mindset. Process. Tools.
Northwestern Engineering takes a threefold approach to teaching design innovation:
Establish a mindset
Follow a process
Develop a toolbox
There are a lot of subjects that I could read about in a book and understand most of the content. But I can't just pick up a book and understand design innovation. That's the reason i'm here. And that's why Northwestern Engineering's hands-on approach is essential.
—Dixon Yu, Junior, Industrial Engineering and Manufacturing and Design Engineering (MaDE)
From the start, succesful design requires an optimistic mindset focused on the future. Students begin with empathy to best understand the end users' needs and humility to acknowledge that they don't have all the right answers.
"Empathy is the foundation of design thinking," Holderfield says. "We're not looking at big data or insights from a thousand people. We're deeply mining the stories of a few people. We want to find needs that are often unarticulated and might be different from what the data show."
The process for solving the problem often begins with messy, ambiguous needs, which are examined through immersive observations and interviews. Students learn to identify the right problem, genreate many ideas for solving it, iterate on those ideas, and implement the optimal solution.
Finally, students develop a toolbox that helps them frame problems and bring concepts to lfe. This includes brainstorming, prototyping, storytelling, user testing, rapid iteration, and giving and receiving feedback.
---
Risk. Fail. Repeat.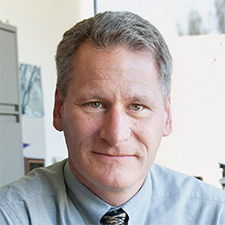 "Students have to realize that they do not and will not always have the right answers. They can also find purpose and meaning in the setbacks." Bruce Ankenman, Co-director of the Segal Design Institute.
As students adapt to design thinking, they often feel apprehensive.
Even though the world is a messy, complicated place, brimming with ambiguity and uncertainty, children learn to solve neat equations and to seek the one correct answer. they are urged to color within the lines and follow a prescribed path to success. That leaves little room to explore the uncomfortable boundaries of the unknown.
When Northwestern Engineering students experience their first design course, Design Thinking and Communication (DTC), during freshman year, they balk at the idea that there can be many right answers. They also soon learn that finding the answer isn't the only challenge - the problem itself is often ambiguous.
"Ambiguity is not always a comfortable place to be," Holderfield says. "Design innovators are not necessarily focused on what is probable. Instead, they work in spaces that are unknown, often mining unarticulated needs of users. They have to use intuition to make a leap forward into the realm of possible."
If embracing ambiguity is difficult for students, then accepting failure can seem incomprehensible. The best way to find the right problem and an optimal solution requires taking risks, testing many iterations, and failing over and over again. Most Northwestern students are high achievers who finished at the top of their classes in high school. Lifelong perfectionists accustomed to straight A's, they often experience a deep fear of failure and recoil at the very thought of it.
"The educational ecosystem at large bemoans failure," says Ahren Alexander, a senior studying manufacturing and design engineering. "But it's extremely important to realize that failure is necessary. Failing helps you understand what you could be doing better."
Students benefit from failure in ways that extend beyond the design process and their final projects. They also develop resilience and humility, both key to working and living in the world outside the academic experience.
---

The Design Process at Work
Problem: Wheelchair users have difficulty navigating curbs and broken sidewalks.
Solution: Portable, dual-telescoping wheelchair ramp.
Challenges: The ramp needed to be sturdy enough to hold a wheelchair but lightweight enough to be portable. The DTC team developed a ramp with a telescoping structure, allowing it to extend in length from two feet to six feet. A locking mechanism secures the sections of the ramp in place for stability.
Lesson learned: Early prototypes often fail. "Near the end of the project, we tested the prototype, and the walls buckled under very little weight," says Nathan Miller, freshman in mechanical engineering. "That wasn't exactly ideal."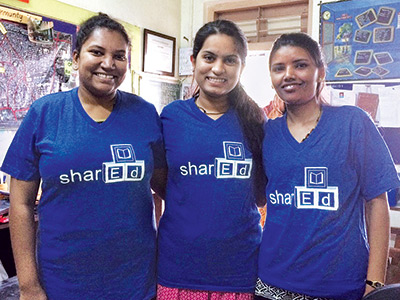 Problem: Preschools in some areas of India lack adequate learning resources.
Solution: SharEd, a startup that leverages the sharing economy for early childhood education.
How it works: Preschool children need a variety of books, games, and toys for the best learning environment, but these materials can be expensive. SharEd develops theme-based curricula and corresponding materials. "We put eight different schools together," explains Kate Geremia, MMM student and chief marketing officer of SharEd. "Each school receives one of the units. Every month, they come together and rotate units."
Lessons learned: User observation is important — even when the users are on the other side of the world. SharEd's chief financial officer Nihar Shah visited Pune, India over winter break to observe students and teachers in the classroom. "Observational research and becoming immersed into the environment is so much more valuable than relying on pure numbers or intuition," Geremia says. "It allows you to gain different insights."
Problem: Breadfruit is a staple food in Haiti and Jamaica, but its tough, stiff exterior and dense, starchy interior make peeling it difficult.
Solution: A bicycle-powered device that rotates the breadfruit for the person peeling it, preventing the arm from overwork.
Challenges: The peeler needs to be safe, easy, and economically viable. "It needs to be manual because electricity is unreliable in Haiti and very expensive in Jamaica," says Betsy Chou, a junior in the Segal Certificate program. "Our users might say they want an electric product, but really they just want something that doesn't cause them to expend too much energy." 
Lessons learned: If the intended user cannot realistically use a product, then it does not matter if it's well engineered. "This made me think more about what people actually need," says Dixon Yu, a junior in MaDE. "I pursued engineering because I wanted to understand how things work. Design combines that curiosity with serving humans."
Problem: Northwestern Medicine needed a virtual care system that could serve 10 times more patients per primary care physician.
Solution: Designed by students in the MS in Engineering Design and Innovation program, NM Check is a comprehensive virtual care system that brings healthcare to patients wherever and whenever they need it.

How It Works: The system, targeted at millennials, consists of three main components: CheckIN, a web and mobile-based health portal; CheckBOX, a system to deliver medical lab tests directly to patients; and CheckRN, a virtual care system for patients to interact with nurses via video conferencing.
Lessons learned: Design specifically for the targeted user. A system like this would work best for the generation that looks to WebMD and YouTube for their healthcare questions. The team found that the idea of entering a traditional healthcare environment is often too daunting for millennials, so they bypass the system altogether.
---
Design Beyond Borders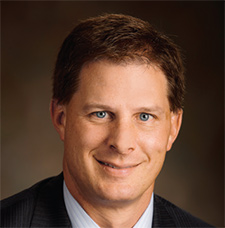 Design innovation at Northwestern is a complex story with many different participants and programs. This continuously growing and inclusive environment mirrors the demand for design on local, national, and international scales.
"Segal was originally rooted in Northwestern Engineering," Holderfield says. "We hoped to give a human-centered design perspective to engineers. That's grown, morphed, and encompassed a variety of programs. To me, that's the beauty of it."
"The design thinking curriculum helped me hone my skills into a powerful design mothodology, which I now leverage in my work to create impactful and practical experiences for people," says Anthony Jakubiak (MS EDI '13), Senior Experience Designer at SAP Labs.
Design thinking isn't about getting to quick solutions; its' about exploring what's possible. That's the real power and benefit.
—Hugh Ekberg (MMM '94), President, Kitchen & Bath Americas at Kohler Co.
Northwestern Engineering is bringing diverse perspectives to design in many ways. Here are a few examples: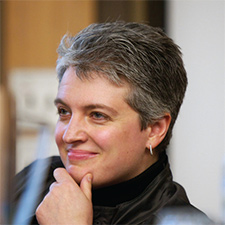 Design Thinking and Doing: The new course, similar to DTC, introduces non-engineers to the design process and is the first course that Northwestern Engineering has offered solely to students outside of the school.
MOOC: Northwestern Engineering offered a massive open online course (MOOC) called "Leadership through Design Innovation." More than 430 participants from around the globe enrolled in the MOOC, offered in winter quarter 2016, to learn more about the process and power of design.
Design for America: Founded at Northwestern in 2008, the student-led network uses human-centered design to address social issues. The organization has spread to several universities nationwide, including Stanford, MIT, Cornell, and Yale. More than 1,000 students are now involved, a number that grows each year.
Good design puts users at the center; solves problems large and small, articulated and tacit; improves the art of daily living with simple elegance, if not surprise and delight. That can translate to good business, yet to quote Herman Miller founder D.J. De Pree, "Good design isn't just good business, it's a moral obligation."
—Gretchen Gscheidle (MPD2 '10) Director of Insight + Exploration at Herman Miller, Inc.
A History of Innovation
It all started in 1997 when the singular first-year class now called Design Thinking and Communication (DTC) debuted. Now a cornerstone of the Northwestern Engineering experience, DTC, co-taught by faculty from the Cook Family Writing Program, challenges students to use design thinking to attack potentially unsolvable problems. The Segal Design Institute was founded in 2007 and initially offered a small, engineering-focused curriculum. Now design innovation has exploded to include a wide variety of programs, course offerings, degrees, and students from eight schools across Northwestern University.
Segal Design Institute Degree Programs
---
The Importance of Being Empathetic
To establish succesful, long-term solutions, designers must first understand the people they aim to serve. for one group of freshmen in DTC, this meant navigating campus in a wheelchair while researching how to build a better ramp. 
"We went out multiple times with a wheelchair to test different bumps, curbs, steps, and ramps," says Nathan Miller, freshman in mechanical engineering. "Even when ramps exist, it was so difficult to roll them up."
"From that, we could understand how the ramp affects the user," adds William Barron, a freshman in computer science. "We better understood which angles are climbable and which are not."
Miller, Barron, and their teammates now say that they can't walk anywhere without noticing steep curbs and broken sidewalks that might be difficult for people in wheelchairs.
"It opened my mind up to the world," Barron says. "It gave me a broader understanding of the world and the problems that exist outside of my own experience."
---
Misconceptions about Design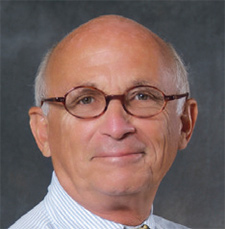 Walter Herbst, director of the Master of Product Design and Development Management program, has dedicated his life to design, and his more than 125 patents prove it. During his time in the industry and academia, he's noticed that many people have misconceptions about design innovation.
False: Design is purely aesthetic.
True: While aesthetics are often a component of design, design is a process and an outcome that holds meaning for the end user.
False: Design is only used to make attractive products.
True: Design can be used to create a product, service, business model, or experience.
False: Innovation is synonymous with creativity.
True: Creativity is the conception of something new. Innovation is the implementation of something new.
---
Lessons from Failure
Accepting failure isn't always easy for anyone. Imagine how it hard it can be for students accustomed to being at the top of their class. But failure is not only inherent in the design process — it's celebrated.
"It's really valuable to get comfortable with failing. If you're not failing, then you're not trying something that takes risks." —Betsy Chou, a junior in mechanical engineering who is earning the Segal Certificate
"From the beginning, our professors told us to do as many things as possible and expect most of them to fail. We've been through a lot of failure, so we're prepared. Even if things don't go smoother in future design classes, we will cope with the failures better than we did the first time." —Paul Klatt, freshman in mechanical engineering
"Every failure is a push toward a solution." —William Barron, freshman in computer science
"It's always disappointing when something fails. But you learn a lot more from what's wrong than what's right." —Millie Rosen, freshman in chemical engineering