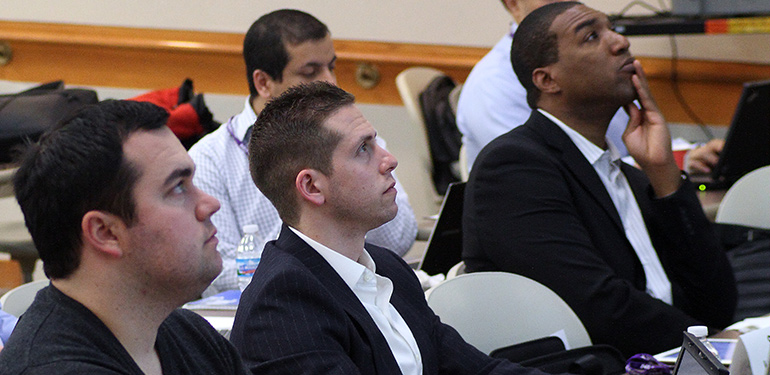 Study Options

  /  

Part-time Option

Curriculum
The MSIT curriculum is based on the idea that in order to better manage technology, practitioners must know how to leverage IT within the context of overall business operations. MSIT courses prepare students to gain a competitive edge in the larger workplace by striking the perfect balance between business acumen and IT capabilities.
All part-time students are required to complete the 6 quarter sequence of MSIT courses posted here (MSIT course schedule). Students may petition to waive a course based on demonstrated knowledge in which case they must complete an alternative course. Students are also allowed to take up to 2 independent study courses in lieu of second-year MSIT courses (not including MSIT 443) with program permission.
View the MSIT course catalog
View the MSIT course schedule
Jump to a Section
First Year
In the first year of the program, students explore the fundamentals of telecommunications engineering and computer and information technology, learn concepts behind networks, and learn how to evaluate technologies and their operations using probability and statistics. Students also start to build a business foundation with financial management, and learn how to effectively mine data to make intelligent business decisions.
Example Course Schedule
First-year students should use the following schedule as a guideline. Every student takes a morning and an afternoon course.
Fall Quarter
Winter Quarter
Spring Quarter
Second Year
In the second year of the program, students will explore more advanced technical material in wireless technologies and information security, while expanding their knowledge of business principles through courses in management, marketing, law, innovation, and strategy integration courses.
Example Course Schedule
Second year students should use the following schedule as a guideline. Every student takes a morning and an afternoon course.
Please note: The fall and spring quarter's afternoon courses change after five weeks.
Fall Quarter
Winter Quarter
Spring Quarter
Independent Study
MSIT's interdisciplinary curriculum provides students with a balanced series of courses to meet their educational and professional needs. However, students who wish to pursue subject matter outside the core curriculum—for example, a topic that meets a current on-the-job need—may opt to conduct an independent study in a particular area of interest. With the program director's approval, students may elect to complete independent study projects in place of up to two regular courses, typically during the second year of the program.
Please complete the Independent Study Form if you are interested in requesting an independent study.
Recent Independent Study Projects
"Intelligent Transportation Systems—Privatization is the Answer"
"Enterprise Security"
"The Evolution of WAP Toward the Ideal Security End Game"
"Encryption Concepts and Methodologies"
"E-Commerce Central"
"E-Commerce Security"
"The Design and Marketing of the Next Great IT Innovation"
"Object-Oriented Software Engineering"
"Introduction to Data Network Modeling Tools"
"IT-Based Strategic Management"
Capstone Course
Taken in one of the final quarters, the Capstone is intended to give students the experience of managing a business entity as its chief executive officer. In this role, students apply all the business and technology concepts learned in MSIT's functional core courses to a case study presented to practicing IT professionals. Students learn to integrate operations management, strategic analysis, forecasting, decision making, redesign and restructuring of an enterprise. Additionally, they will demonstrate decision-making processes, report writing, and presentation skills.
Study Groups
MSIT students find study groups to be one of the most rewarding and valuable aspects of the program, not only for the academic benefits, but for the personal and professional relationships that develop as a result.
These groups are typically composed of three to four students and usually meet once a week to discuss class material and homework, prepare for tests, and work on group projects. Study groups provide opportunities for students to harness multiple points of view for handling work-related IT problems, as well as to develop skills for managing group dynamics, often a key component to successful IT work.