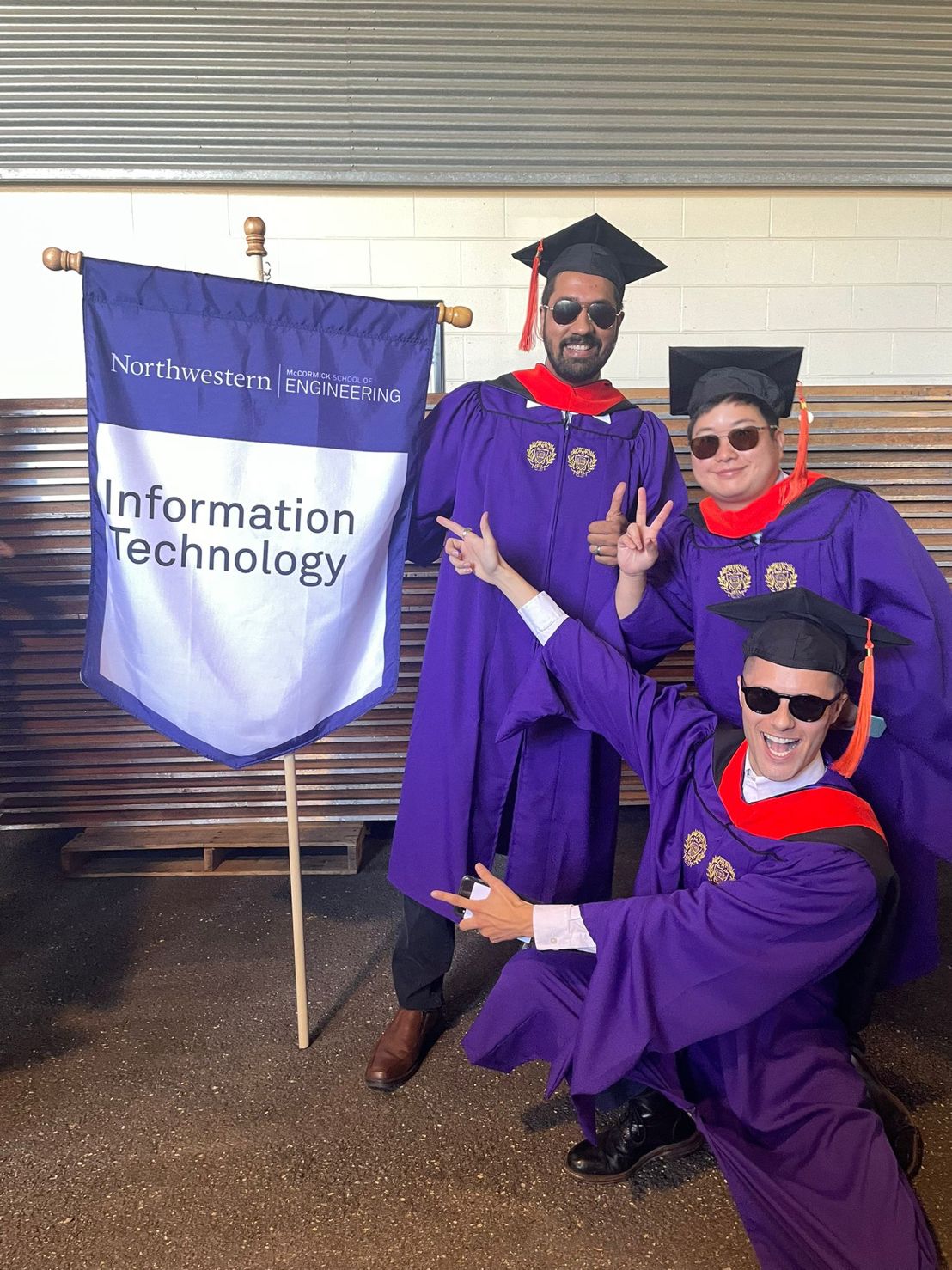 Inside Our Program

  /  

Events

Graduation
Northwestern University's Master of Science in Information Technology (MSIT) program is excited to recognize its new graduates at graduation ceremonies in December, 2021 and June 2022. Our students have worked hard to earn the MSIT degree. While some have managed this degree as part-time students with full-time jobs, others quit their jobs to be full-time students with the MSIT program. We congratulate them and celebrate all of their hard work. 
June Commencement Ceremonies
Monday, June 13, 2022, 9 a.m.
Location: Welsh-Ryan Arena, 2705 Ashland Avenue map it
Commencement is the Northwestern ceremony where the graduating class is commemorated as a whole. During the ceremony, student, faculty, and guest speakers will address graduates and their families.
Visit the Commencement website
Regalia
The MSIT progrm will order your regalia.
A series of in-person and virtual events will be held June 11, 12 and 13, 2022. Please find the latest information on Northwestern University's Commencement website.


MSIT Graduation Celebration: 
Congratulations, MSIT graduates!  Please join us for a time of celebration at the Ten Mile House in Evanston. We welcome graduates from December 2021, March 2022 and June 2022 for a reception and brunch.
When: Sunday, June 12, 2022 at 9:00am
Where: Ten Mile House map it
            1700 Central St
            Evanston, IL 60201
Covid Guidelines: Guests are welcome, but must follow the guidelines individually. Maximum 6 guests per graduate. Masks and social distancing required.
We hope to see you there!

M
c

Cormick Convocation
Sunday, June 12 at 1 p.m.
Location: Welsh-Ryan Arena, 2705 Ashland Avenue map it
We are delighted to invite 2022 graduates to celebrate in person for the McCormick Convocation. All 2022 McCormick master's and PhD graduates will be honored at a single ceremony.
2022 Convocation Participation and Ticketing
Tickets
Tickets are required for all guests at Commencement and school convocations. Ticket orders must be placed by by May 20. Tickets will be sent out approximately two weeks before graduation.
Commencement promotion code:
COMM22+StudentID
(Example: if your seven-digit student ID = 1234567; then your promotion code = COMM22+1234567. Please type the '+' sign, as it is part of the password)
PhD Hooding and Master's Degree Recognition Ceremony promotion code:
MCG22+StudentID
All orders for Commencement and/or McCormick Convocations contain 10 tickets, the maximum number allowable. All seats are general admission.
For login issues or questions about your ticketing account, please contact the Athletics Department at cat-tix@northwestern.edu or 847-491-2287.
Registration and ticketing are now closed. 
We look forward to celebrating this achievement with all of our MSIT graduates and their friends/families! 
Questions?
Please contact Stephen Dowling, MSIT Associate Director, with any questions. 
More in this section