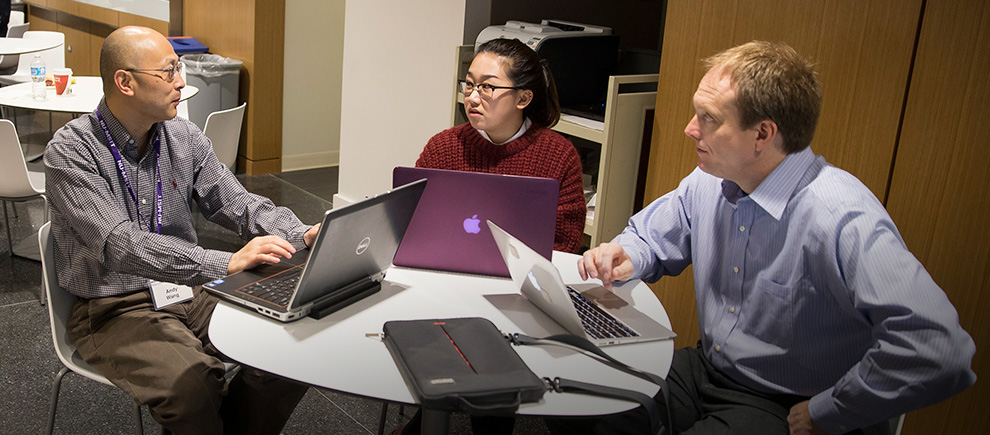 Network with Diverse Classmates in a Small Cohort Setting
Students from various industries and backgrounds collaborate in study groups and progress through the program together in a 25-30 person cohort.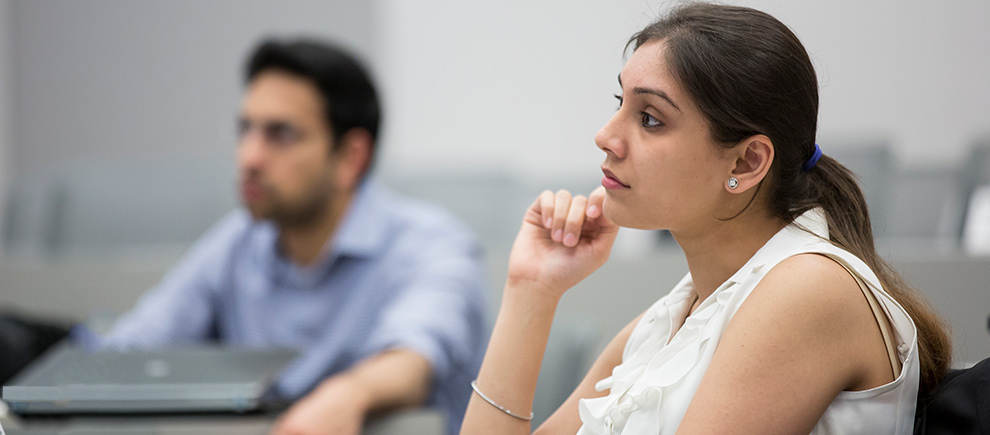 Technical & Business/Management Curriculum Mix
MSIT's unique curriculum offers a mix of technical (70%) and business management (30%) courses, preparing graduates to better translate their technology ideas into practical business solutions.
Welcome to the

Master of Science in Information Technology (MSIT)

Northwestern University's Master of Science in Information Technology (MSIT) program is uniquely designed for information technology professionals who want to improve and broaden their technical skills while learning the application of business principles. This combined skill set defines MSIT graduates — the ability to bridge the gap between fundamental technologies and business strategies — ensuring that they bring impactful value to the business.

Designed for IT professionals with experience in the workplace, the program's unique blend of technology and business courses, a diverse student body, and coursework taught by academic professors and business executives prepares its graduates to strategically plan, implement, and manage information technology systems in a broad range of industries.

Learn more about the program
Meet the faculty
View the MSIT course schedule
Quick Facts
Degree Name

Master of Science in Information Technology

Duration

Part-time: Two Academic Years
Full-time: 10-13 months (depending on optional internship)

Start Date

September 23, 2019

Program Calendar

Course Schedule

Curriculum

Program Structure

Coursework in technology and business/management principles
Independent study options allowing one-on-one interaction with faculty
10-week capstone course
Study groups that allow for collaboration, networking opportunities, and project management experience
Optional industry internship (for full-time students)

Location

Evanston campus

Cost

2019-2020
Part-time: $6,284/course
Full-time: $52,101/academic year (17,367 per quarter (3-4 courses); 3 quarters in an academic year)

Application Opens

September 1

Application Deadline

Part and Full-time Program Options: Rolling Admission Policy


The MSIT application for Fall 2020 is now open.

*Please note: MSIT has a rolling admission policy and will review applications until all seats are filled. Early submissions are encouraged.
Student Profile
Each year, Northwestern MSIT welcomes a diverse group of talented students into this competitive cohort-style program, forming a creative and collaborative environment. Students vary in age, experience, nationality, education, industry, and position. The diversity of perspective, experience, and knowledge helps broaden students' outlook on the IT world and helps influence the education they receive both inside and outside the classroom.
Learn more about the MSIT student body profile
Why Northwestern University?
The MSIT program is housed within the Electrical and Computer Engineering Department in Northwestern's McCormick School of Engineering. Nationally, the engineering school is ranked 20th, the Electrical Engineering and Computer Engineering graduate programs are ranked 23rd and 18th, respectively. MSIT professors are pulled from these selective programs as well as other highly ranked programs at Northwestern.
The MSIT program takes a broader, more comprehensive approach to information technology education, complementing each course with team projects, and guest speakers from industry to ensure an academic experience that's grounded in business reality. The program features the following:
Career Opportunities
Graduates of the MSIT program are well-prepared for immediate employment in a variety of professional industries. Graduates from the part-time program, having been employed while pursuing their degree, are often promoted during the program or upon graduation. Full-time students have enjoyed a 90%+ employment rate before program completion. Graduates have received offers to work for data-savvy organizations such as Microsoft, General Motors, Goldman Sachs, Price Waterhouse Coopers LLP, and Abbott Laboratories, among others.