Supporting Business Intelligence at Amazon
Aditya Sinha (MSIT '20) discusses his new responsibilities as a Business Intelligence Engineer and how Northwestern Engineering's Master of Science in Information Technology (MSIT) program prepared him for the role.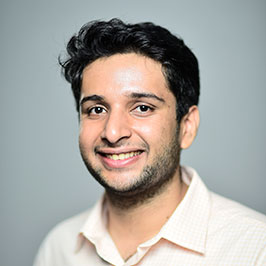 Aditya Sinha (MSIT '20) began working in early March as a business intelligence engineer (BIE) at Amazon, where he builds small- to midsize data sets, queries, reports, and dashboards to help answer business questions with data. 
He also uses industry analytics visualizations and statistical methods to deliver actionable insights to stakeholders, as well as invent, refine, and develop intelligence solutions to ensure they meet the needs of the business and team goals. 
Sinha credits Northwestern Engineering's Master of Science in Information Technology (MSIT) program with giving him the confidence and business knowledge to succeed in this new role. He recently discussed how MSIT prepared him for where he is today, and what advice he'd offer to others considering the MSIT program. 
What excited you about the job at Amazon? 
The intense focus that Amazon has on its customers is why they are one of the world's most valuable brands – customer obsession is part of the company's DNA. As a BIE, I use  cutting-edge technology to solve complex problems and get to see the impact of my work first hand. The challenges BIEs solve for Amazon are big and impact millions of customers, sellers, and products around the world. I am excited by the idea of creating new products, features, and services from scratch while managing ambiguity and the pace of a company whose ship cycles are measured in weeks, not years.
How did MSIT prepare you to succeed in this new role? 
One of the most beneficial aspects of the MSIT program was, while I was learning new skills, getting an equal opportunity to apply that knowledge in a more practical setting with the help of academic projects. After my experience in the MSIT program, I am now a much more well-rounded engineer. I am more confident in tackling challenges and my problem-solving abilities. 
What was it about the MSIT program that initially appealed to you?
The MSIT program allowed me to up-skill on the technical skills required to help get to the next level, while at the same time understanding business implications. The flexibility offered by the MSIT program was another big plus for me. Also, the cohort structure of the program was such a great experience. Studying with other experienced full-time students from various IT domains and part-time students who were already in the industry gave a fresh perspective to what was learned in the classroom.
What were three important lessons you learned in MSIT? 
It was important for me to realize that everybody is here to help you — it is not a competition in MSIT. The work might get overwhelming at times, but always remember to work smart. Lastly, do not lose sight of your end goal.
How do you feel you grew during your time in MSIT?
As an IT professional, I have a much better sense of the latest trends and technologies in the tech world. The program allowed me to understand that as an IT Leader, it is not just about building the best software, but it is about keeping the bigger picture in mind and making the right business decisions. As a person, I found some of my best friends because of this program. The connections I made are going to be long-lasting. Being an international student, a master's in the US can be daunting, but having the right circle around you can make a world of difference. 
What advice would you give to a prospective student considering MSIT?
While the MSIT program is attractive because it allows you to have a broad perspective on the latest trends in technology, it also is important to come in with a sense of purpose. The flexibility of the program is its biggest asset and you should use that to mold your journey. At the same time, do not forget to make the most of the awesome networking opportunities, not just from the MSIT program but also its sister programs like the Master of Science in Analytics or Master of Engineering Management. Northwestern is a great place to be; make sure you are in command of your journey.