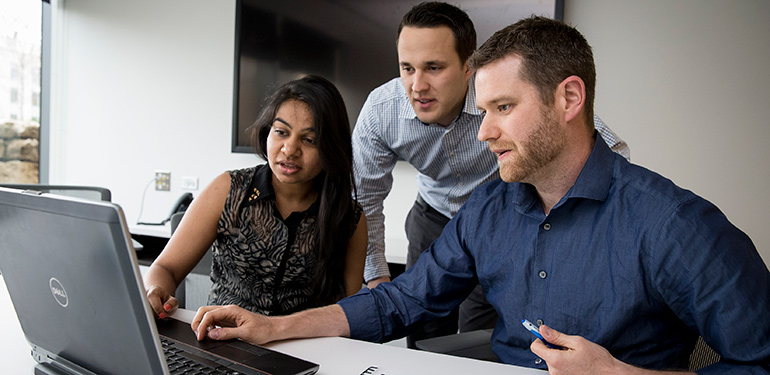 Program Overview
Northwestern's Master of Engineering Management (MEM) program combines professional engineering practice with core business and management subjects typically found in an MBA program. It is the only degree program of its type offered by a first-tier university in the midwest, and it is one of the oldest, most established, and most flexible MEM programs in the country. Since most of our students are part-time working professionals, we make it easy to complete the program at your own pace. And, unlike programs that are cohort-based, you can customize the program with electives based on your area of specialization.
Jump to a Section
Why Earn an MEM Degree?
Watch the video below as professors and students provide an overview of the program and discuss the value of the MEM degree in the marketplace.
Program Goals
We prepare our students to:
Integrate technical and business skills to solve sustainability, health, and environmental protection challenges on a global level

Communicate the language of business clearly to a variety of audiences
Display management and leadership skills that translate to top leadership roles
Drive our competitive world of technology by understanding the essential principles of business
Areas of Focus
Innovation — Taught from a product development and organizational perspective, students have the opportunity to focus on the development of an individual product as well and an entire business.
Strategic Thinking — Students develop the ability to discern the long-term business implications of financial performance and external factors.
Leadership — Students focus on issues surrounding team leadership such as: followership, communications, conflict resolution, decisiveness, task orientation, and self-management.
Learn more about these areas of focus
Who Should Apply
Students in this program are engineering and science professionals who want to develop core management and leadership skills while staying on the cutting edge of technology.  The curriculum empowers engineers to communicate in the language of business, and enables graduates to seek positions as engineering managers, entrepreneurs, or intrapreneurs.
Learn more about our student body
Curriculum
The strength of the MEM Program is its multidisciplinary approach, combining a core curriculum in marketing, finance, accounting, and engineering management with a graduate level engineering education. Students learn the basics of management, quantitative analysis, and behavioral science and choose advanced engineering electives in their area of specialization.
Electives
In order to tailor the program to their area of specialization, students choose electives from selected courses from other professional masters program:
The Kellogg School of Management
Learning and Organizational Change from the School of Education and Social Policy
NUvention — a program focused on the entire innovation and entrepreneurial life cycle and the process of turning innovations into viable real world businesses
Optional Concentrations
Healthcare Systems Engineering (New in 2020)
Managerial Analytics
Product Management
Project and Process Management
Learn more about the curriculum
Part-Time or Full-Time Study
As many of our students are working professionals, this program is designed to accommodate their schedules, offering both part-time and full-time tracks as well as Saturday and evening classes.
Learn more about the flexible study options
Faculty
The faculty members are all leading practitioners and scholars of distinction, well known for their experience and research. MEM faculty members regularly serve as consultants to industry and government. Their familiarity with current trends and challenges enables them to provide MEM students with cutting-edge approaches to management problems and solutions.
The MEM faculty is drawn from:
The Department of Industrial Engineering and Management Sciences in the McCormick School of Engineering
The Kellogg School of Management at Northwestern
Industry experts from Chicago-area companies
View all faculty in this program
Learn More About