What I Learned During Chicago Ideas Week
Northwestern MEM student Linus Waltenberger looks back on his experience exploring Chicago's vibrant tech scene.
This past October, Chicago Mayor Rahm Emanuel, along with the University of Illinois System and World Business Chicago, invited 200 top college students from across the country to explore Chicago's vibrant tech scene and attend Chicago Ideas Week.
Chicago Ideas Week is organized by ThinkChicago and can be thought of like a week-long TED conference, complete with workshops, labs, talks, discussions, and conversations.
Northwestern Master of Engineering Management student Linus Waltenberger was one of those 200 invitees. Now, after a couple of months to reflect on the experience, Waltenberger took time to talk about Chicago Ideas Week and how it relates to his MEM experience.
Overall, how would you describe your experience at Chicago Ideas Week?
THINK Chicago is a great experience for everyone that is interested in new technologies, civic tech, and startups, and who wants to explore the city's entrepreneurial scene with like-minded students from all over the United States.   
What were you looking forward to most about the experience?
I was looking forward to interesting talks and panel discussions by public leaders like the mayor and tech company executives. I hoped to learn more about the tech scene in Chicago and meet interesting students from all over the country.
What were the highlights for you?
I really enjoyed the civic tech panel discussion at mHUB with Danielle DuMerer (CIO at the Department of Innovation and Technology, City of Chicago), Katie Olson (Director, Operations & Services, City Tech Collaborative), and Thomas K.R. Stovall (President, CANDID) about how Chicago tries to solve big problems. The issues at hand are very familiar to most western cities: how does public administration react to vast technological changes and how can technology and civic engagement tackle major issues of the 21st century?
In another talk by Derek Eder (Founder and Lead Organizer, Chi Hack Night), we were able to see how data analytics and data visualization can raise awareness for urban challenges like zoning codes, rent, crime, and congestion that might further influence policies by offering decision makers hard facts and understandable visualizations.
Another great thing about THINK Chicago was the opportunity to visit companies' showcases. We started out with a tour through mHUB, which is an incubator and co-working space that allows entrepreneurs to develop products in robotics, connected devices, sensors, energy tech, unmanned vehicles, and other cutting edge innovations by providing the infrastructure that is needed.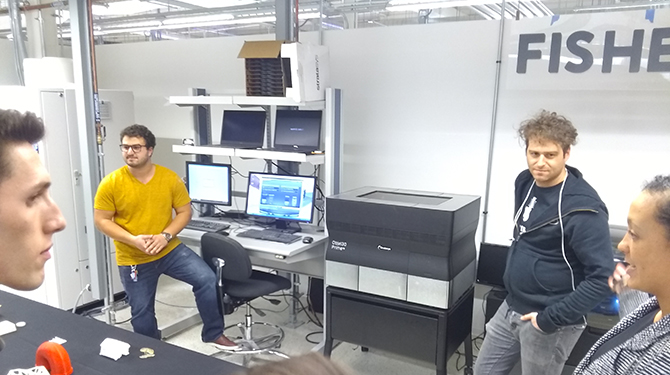 Students were then able to visit two company showcases out of a list of about 20 technology-based firms. I was able to explore CCC in the Merchandise Mart and Livongo on Michigan Avenue.
At CCC Christoph Plenio (Vice President, R&D), showed us around the office and explained how CCC provides vehicle life-cycle solutions for original equipment managers and automotive insurers by applying cutting edge technologies like artificial intelligence for visual recognition or augmented reality and machine learning for insurance purposes.
At Livongo we experienced how smart mobile devices can help people with chronic conditions live better and healthier lives by making use of their health data. We were shown around by the founders as well as CEO Glen Tullman, and we learned what the journey for a rapidly growing startup looks like.
On Saturday, all students teamed up for the civic tech challenge. Each team of six students had to come up with a business idea that would tackle a problem in one of the following areas:
Health
Education
Economic Mobility
Civic Engagement
Emergency Preparedness.
We pitched our ideas to help raise youth voter turnout to a jury on Saturday.
What are two of the biggest lessons you learned from the opportunity?
If you have a good idea that would improve the quality of life in Chicago and want to work in civic tech, you'll find plenty of people that will support you and your idea.
In Chicago, hot dogs are never to be topped with ketchup!
How do you think you'll be able to incorporate anything you learned/experienced into your day-to-day MEM experience?
The biggest take away for me was how the tech scene and startup scene in Chicago works and what programs the city of Chicago tries to push in order to enable entrepreneurs and tech companies to grow and create jobs in the city.
Is there anything else you'd like to add?
It was a great and fun experience that was easily integrated into my MEM studies. I highly recommend applying for ThinkChicago to any student.