A 'Perfect, Practical and Progressive' Program
Sheel Saket looks back on his time in the MEM program and how it helped him make a career shift to pursue his dreams.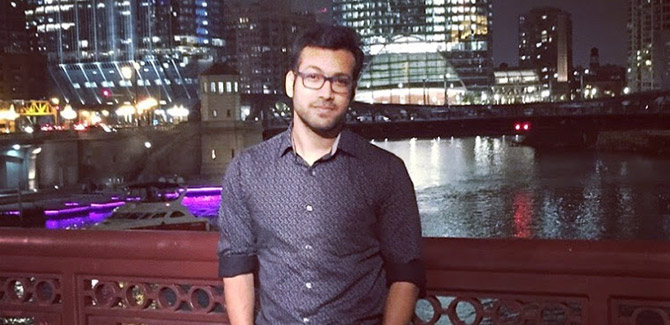 By Sheel Saket (MEM '18)
I think the Master of Engineering Management (MEM) program at Northwestern University is the best thing that ever happened to me. I met many talented classmates and eminent faculty members, and thanks to them, I'm on my way to pursuing my dreams.
Looking back on my time in the program, the thing that surprises me the most is that I was efficiently successful in changing my career from a civil engineer working as a project manager to a data scientist who can code complex machine learning algorithms and solve problems using the power of data.
As I began considering MEM, the program's flexibility was the most appealing feature to me. I wanted to make a shift from project management to data science, and the MEM program gave me the freedom to make my experience more suitable to my aspirations.
There are various concentrations under MEM that you can pursue and select courses more specific to your desired industry. I pursued the Managerial Analytics concentration to be able to position myself in the data science industry. Along the way, I got the opportunity to follow my technical aspirations and also develop my leadership and decision-making skills.
MEM helped me improve and grow by exposing me to many challenging projects. I was fortunate enough to be able to grab on to two highly technical and exciting projects.
For the first project, I had the opportunity to work with the Safe Ride team at Northwestern. Safe Ride is a ride-sharing platform where Northwestern students and faculty members can share rides and travel in and around the campus at night (7 p.m.-3 a.m.). I led a team that developed an analytical solution — using concepts of machine learning — that could increase the efficiency of Safe Ride's operations. This project exposed me to complex data set (rides data) where I could implement powerful tools like RandomForest and Gradient Boosting. In this assignment, I leveraged the technical and leadership skills I learned in the MEM program to manage the project and deliver quality solutions on time.
For the second project, I joined a startup led by students from Northwestern's Kellogg School of Management. Thanks to guidance from our faculty members and support from The Garage at Northwestern, I am helping to develop a Natural Language Processing tool that can read articles, understand the text and send feedback for students to read specific articles based on their preferences using coding languages such as R and Python.
These two opportunities gave me great hands-on experience dealing with real life data science problems and how you can resolve issues with technical and behavioral prowess.
If I were to describe the MEM program in three words, I'd say it is perfect, practical and progressive. I call this program "perfect" because I could not find any flaw. Engineering Management is the perfect amalgamation of technical and managerial learning. It is a technical substitute to a traditional MBA.
The program is "practical" because instead of wasting time on theoretical paper submissions, MEM focuses more on teamwork through its case study approach toward learning. This helped me develop my presentation, communication and team building skills.
And finally, I'd say "progressive" because this program will definitely take you ahead of your competitors in terms of knowledge and skills. After graduating from MEM, I feel that I have developed a keen technical and business eye. I can understand businesses and finances with far more efficiency than I ever could before.
I'm excited to pursue my dream of becoming a leader in the data science field and I want to contribute toward the advancements in AI. Eventually I hope to lead a team in the field of AI and create products that will help solve real-life problems.
I never expected this transition to be very easy, but I'm on my way. This was only possible due to the flexibility of the MEM program and the support from all the faculty members and advisors. To everyone who has helped me get where I am today, Thank you.