Baker Received Honorary Doctorate from the University of Stuttgart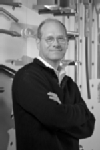 In recognition of his distinguished career and professional achievement within the practice of structural engineering, the Senate of the University of Stuttgart (Germany) has conferred William F. Baker P.E, S.E, FASCE, FIStructE, NAE, an honorary doctorate in engineering.  Upon receiving the honor, Baker noted, "The University of Stuttgart has an exceptional history of research and innovation in structural engineering; it is truly a world leader.  To receive this honor from this prestigious institution is a high point in my career."
Founded in 1829, the University of Stuttgart is a leading technical university in Germany, with highly ranked programs in civil, mechanical, and electrical engineering.  Innovative faculty members in engineering and architecture include Jorg Schlaich, Frei Otto, Ekkehard Ramm, Werner Sobek, and Fritz Leonhardt, who also served as University President.  In 2009, Baker became the first American to receive the prestigious Fritz Leonhardt Prize, an award recognizing outstanding achievement in structural engineering.
The honorary degree was bestowed at a celebration in Stuttgart, Germany on November 18, 2011.   Speaking on behalf of the University, Prof. Dr.-Ing. Wolfram Ressel noted, "The Senate has made this award in appreciation of [Baker's] extraordinary and outstanding scientific and technical achievements in the field of the structural design of high-rise structures with special emphasis on topology optimization and wind engineering."
As a Partner at Skidmore, Owings & Merrill LLP (SOM), Baker's innovative approach to structural engineering has led to buildings of unprecedented height and slenderness.  Baker and his team have engineered three of the world's ten tallest buildings, including the Burj Khalifa, the world's tallest manmade structure, Zifeng Tower, and Trump International Hotel & Tower – Chicago, the tallest building erected in the United States since the Willis (formerly Sears) Tower.  By developing the tower's 'buttressed core' structural system, Baker's team launched the new era of the supertall.  Other notable projects include
Broadgate Exchange House
(London),
Korean Air Lines Operations Center
(Seoul),
General Motors Renaissance Center – North Lobby
(Detroit), Raspberry Island – Schubert Club Band Shell (St. Paul) and 
Infinity Tower
(Dubai), which spirals an amazing 90 degrees.
Baker has been honored numerous times for his untiring efforts to advance the field of structural engineering.  In 2010, he was awarded the Gold Medal from the London-based Institution of Structural Engineers, while in 2011, he received an OPAL Award, the American Society of Civil Engineers' (ASCE) highest award for design.  In 2009, Baker received the Fazlur Rahman Khan Medal for lifetime achievement from the Council on Tall Buildings and Urban Habitat (CTBUH). 
Baker, a member of CEE External Advisory Committee, was the inaugural speaker of the Department of Civil and Environmental Engineering Distinguished Lecture Series in April 2011.