CEE Advisory Board Member Bill Baker Elected to the National Academy of Engineering
CEE Advisory Board Member Bill Baker Elected to the National Academy of Engineering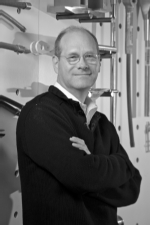 Bill Baker, structural engineering partner at architectural and engineering firm Skidmore, Owings, and Merrill and member of the advisory board for the Department of Civil and Environmental Engineering, has been elected to the National Academy of Engineering. Baker was recognized "for leadership in the development of innovative structures for high-rise buildings worldwide."
Election to the National Academy of Engineering is among the highest professional distinctions accorded to an engineer. Academy membership honors those who have made outstanding contributions to "engineering research, practice, or education, including, where appropriate, significant contributions to the engineering literature," and to the "pioneering of new and developing fields of technology, making major advancements in traditional fields of engineering, or developing/implementing innovative approaches to engineering education."
Throughout his career, Baker has dedicated himself to the structural innovation of tall buildings within the urban landscape. He most recently developed the "buttressed core" structural system for Burj Khalifa in Dubai. Closer to home, he has spearheaded the structural design of Chicago's AT&T Corporate Center and the 92-story Trump International Hotel and Tower. Baker has received the Fazlur Rahman Khan medal from the Council on Tall Buildings and Urban Habitat and is the 2009 recipient and first American to win the Fritz Leonhardt Prize.
Save the date:  Bill Baker will be the inaugural speaker for the Civil and Environmental Engineering Department Distinguished Lecture Series on April 29, 2011. 
Last spring, Baker spoke at McCormick as part of the Dean's Centennial Seminar Series. Read more about the talk (http://www.mccormick.northwestern.edu/news/articles/article_698.html) or watch the video (http://video.mccormick.northwestern.edu/?vd=1075#cat-6).