Congratulations Class of 2021
The 2021 graduates of Northwestern University were recognized in both virtual and in-person events culminating in a virtual 163rd Commencement on Monday, June 13th that featured the remarks to the graduates by Gwynne Shotwell, president and COO of SpaceX.  CEE faculty honored their M.S. and Ph.D. students in a virtual hooding ceremony which followed the University Commencement. The McCormick School of Engineering celebrated the graduation of all Ph.D., M.S. and B.S. students with an in-person Convocation at Ryan Field on Sunday, June 12th at which Bruce Mau, a leader in design innovation and the founder and CEO of Massive Change Network, shared his thoughts about the power of design to tackle the world's biggest challenges.  Following the Convocation, CEE students, their families and  guests attended an outdoor reception in the courtyard of Tech.
Unfortunately, the pandemic also necessitated that the department cancel its award ceremony and dinner.  Yet, CEE seniors and a few faculty persevered and gathered at the rooftop restaurant/bar, Five and Dime, off campus in Evanston to toast the end of a long academic year and an all too brief academic journey at NU.  This celebration was also an opportunity to congratulate our graduates individually, offer a small token of appreciation from the department, which included a purple hard hat, and to herald the special accomplishments of a number of our graduates.  The Class of 2021 Senior Awards are: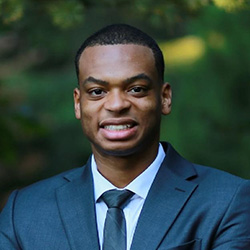 The Civil Engineering Senior Award, which recognizes an outstanding civil engineering graduating senior in the Department, was awarded to Devon Dulan. 
The Environmental Engineering Senior Award, which an outstanding environmental engineering graduating senior in the Department, was awarded to Valeria Apolinario and Bridget Chia.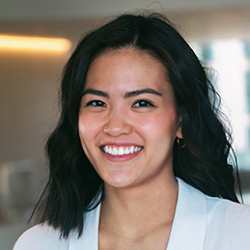 The Edwin C. Rossow Prize for Structural Engineering was established by his former students to honor Professor Rossow's contributions to the civil engineering profession and dedication to his students and is given to a civil engineering student who, by activities and achievements, demonstrates great potential to contribute and to succeed as a professional in the field of Structural Engineering. The 2021 recipient was Melanie Galantino.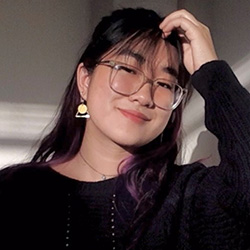 The Jimmie Quon Memorial Award for Environmental Engineering was established by his former students to honor Professor Quon and his contributions to the academic and other professional fields encompassing Environmental Engineering and is given to environmental engineering seniors who have the highest potential to make significant contributions to the advancement of Environmental Engineering and positive impact to society. This year it was awarded to Mia Tran. 
The Wallis S. Hamilton Award for Civil and Environmental Engineering recognizes the seniors who best exemplify the standards of Professor Hamilton: teacher, researcher, and professional engineer. This award was presented to Samuel Asa and Andrea Lin.