CEE and AED Alumnus Tony Vasquez Received Commendation as a Key Designer for Catalyst SF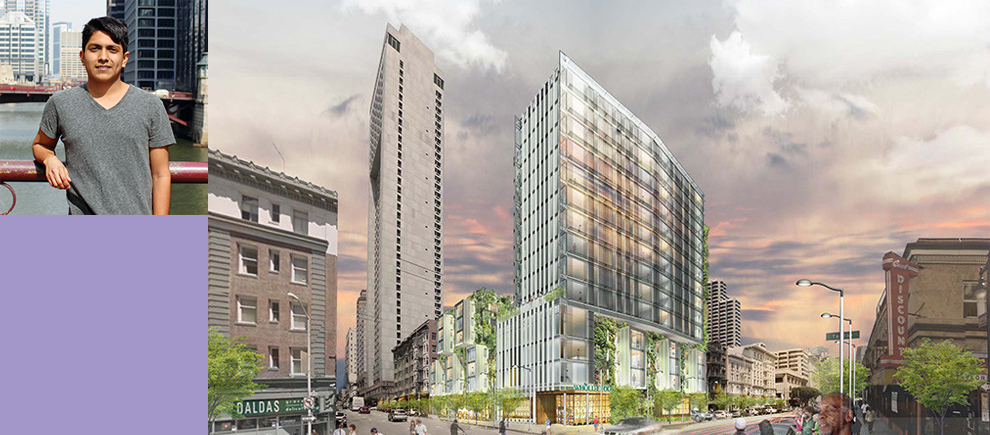 Civil and Environmental Engineering graduate and Architectural Engineering and Design certificate recipient Tony Vasquez recently received commendation as a key designer for Catalyst SF, architecture firm Booth Hansen's entry in the Architecture at Zero 2013 international design competition. The design received the highest honor in the competition – the Merit Award in the professional category.

The Architecture at Zero competition proposes a site-spe­cific program and challenges designers to find creative and feasible approaches to zero net energy buildings. The 2013 competition site was set on a 22,300 sf vacant lot in the Tenderloin neighborhood of San Francisco. Entrants were challenged to create a net-zero energy project with both a grocery store and 150 affordable housing units in the dense, mixed-income area.
Named for its innovative use of a hybridized energy management and generation system, Catalyst SF incorporates an on-site catalytic converter to turn collected rain and gray water into hydrogen gas for use in powering on-site fuel cells. Vasquez's primary role on the team was to carry out the research and design of the system that would allow our building to achieve the net-zero goal, and he also contributed to the design of the building, production of presentation materi­als, and energy calculations and analysis.  Vasquez was joined in the design by Booth Hansen architects Joseph King and Lillian Park.
Learn more about Architecture Engineering and Design Certificate