Turning a Passion for Healthcare into a Career
Alumna Daniela Ruiz explores her passion for patient-focused healthcare as a process engineer at biotechnology company Genentech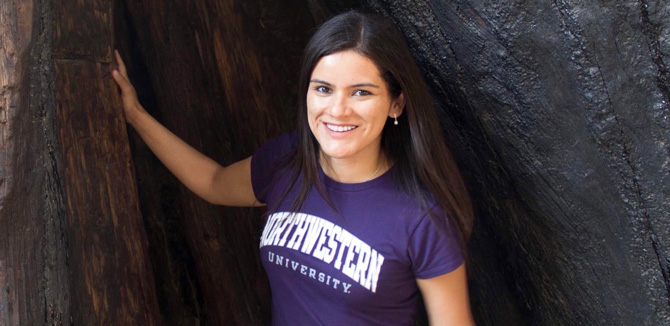 Daniela Ruiz ('18) has always been interested in healthcare. After moving to the United States from Mexico at the age of six, she assumed an active role helping care for her father as he battled an illness. Understanding and navigating the US healthcare system became an important part of her identity.
After a Northwestern Engineering career exploring healthcare from a variety of perspectives — working and interning at the Foundation for Sustainable Development, Johnson & Johnson, and Boston Scientific — and taking hands-on courses in synthetic biology, Ruiz realized her career focus would be improving the patient experience.
Now a process engineer at South San Francisco, California-based biotechnology company Genentech, Ruiz supports the development of new medicines and healthcare products. We asked her about her early-career experience, the importance of networking, and her favorite memories as a chemical engineering student.
You've worked at Genentech for a few years in a variety of roles. How would you describe your experience there? What projects have you been a part of?
I joined Genentech's Operations Rotational Development Program (ORDP) after graduation. During my time in the program, I rotated through five different departments, some of which were global, and some based at our sites in South San Francisco and Oceanside, California. I worked on data visualization analysis, business case development, production, product validation, and much more.
My favorite experience was working on digital health and combination products in Genentech's Pharma Technical Regulatory (PTR) department. This is a focus area at Genentech, and a growing market in general. I worked on different digital health products — from medical device software to phone applications to wearable technology — and how they are regulated. These aren't simply products that healthcare professionals apply to patients. They are very interactive. The patient must understand the directions and the products must incorporate human-centered design to work.
The experience was particularly striking while working on reliability analyses, which essentially predict all the ways our products could fail and requires us to consider how to prevent that from happening. It felt empowering, but also gave me an incredible sense of responsibility, realizing that anything a patient uses, is affected by this work happening behind the scenes.
You received a 2020-21 Fulbright Fellowship and a Congress-Bundestag Youth Exchange for Young Professionals award to explore your interests in leadership and the German language. How do these programs connect to your career goals?
While working at ORDP, I realized I was really interested in international collaboration and potentially working abroad down the road. I took German classes at Northwestern, stopped for a couple years, and then picked it back up in San Francisco.
While the pandemic impacted my ability to travel to Germany for the Fulbright Fellowship this year, I've been able to do the Congress-Bundestag Youth Exchange for Young Professionals program online. Through this fellowship, I have continued developing my German language skills via online classes with the Goethe-Institut, participated in leadership and diplomacy workshops held by the US Department of State, and networked with a talented cohort of young professionals from a variety of industries in the US and Germany. That's a perk I wouldn't have had if the program were in person.
How has your degree in chemical engineering, and your experience at Northwestern Engineering, helped your career so far?
The Department of Chemical and Biological Engineering's broad research areas allowed me to ask different types of questions and read about topics in a variety of journals I may not have been exposed to if I went to a school with a more focused curriculum.
I've also met a ton of Northwestern alumni living in the Bay Area. It's always a welcoming experience when you meet a fellow Wildcat and can share your career path with them and ask questions. I've never had an easier time reaching out for advice. I'm also at the point now where current chemical engineering students have reached out for advice, and I'm able to pay it forward.
Do you have any favorite memories during your time at Northwestern Engineering? Are there particular experiences or connections that stand out?
My experience at Northwestern would not have been the same without the incredible support and inspiration I received from faculty and classmates in the chemical engineering department.
As an incoming student, I received a warm, personal welcome from Professor Linda Broadbelt, then chair of the department. She invited me to her office and asked how she could support me in my academic and professional goals.
Professor Michael Jewett taught my first and final ChBE courses, CHEM_ENG 210: Analysis of Chemical Process Systems and CHEM_ENG 376: Principles of Synthetic Biology, respectively. He set a great example for me and my classmates, encouraging us to follow our own career paths with contagious passion.
I have great memories working with many other faculty, including Professors Greg Maher, Justin Notestein, Randall Snurr, and Muzhou Wang. I also have fond memories cheering on students and faculty during the department's annual debate. They were always energetic.
Do you have any advice for current chemical engineering students?
It's important to focus on the people you meet and your experiences at Northwestern in addition to academics. I was involved with my residential college, where I met many of my best friends. They are people I can reach out to at any time, even after not talking for a while. I also worked at Northwestern's radio station, WNUR-FM. That experience, which included reaching out to record label producers and artists, taught me to be fearless about networking.
Northwestern's National Society of Black Engineers and Society for Hispanic Professional Engineers chapters were both vitally helpful when it came to interviewing. Interviewing can be stressful, but these groups helped me feel confident and supported.
Lastly, learn a programming language. Your work's progress may be affected by your ability to program. Feeling comfortable programming, even if it's just using Python, will afford you the opportunity to grow and expand your work.