Explore the theory and the practice of Artificial Intelligence
Learn how work in machine learning, natural language understanding, and automated decision making can be drawn together to create systems that already impact business, government, and how we live our lives.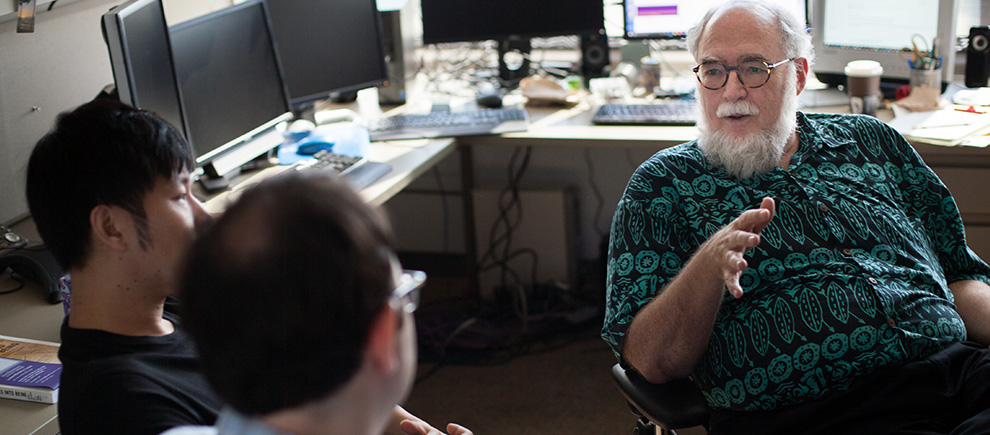 Work with leading researchers
Collaborate with our world-class faculty in the development of cutting-edge technologies that go beyond the ideas of today to shape the software and functionality of tomorrow.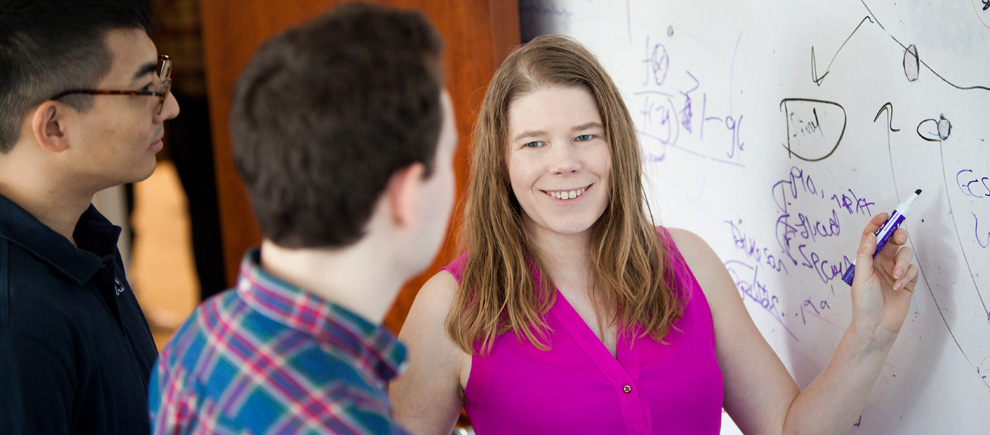 Go beyond the idea to integration
Learn to take the ideas of AI and to apply them in the world with an eye to how people work and think, and how intelligent systems will partner with them. Through our industrial internship quarter, use your skills to solve real business problems in enterprise settings.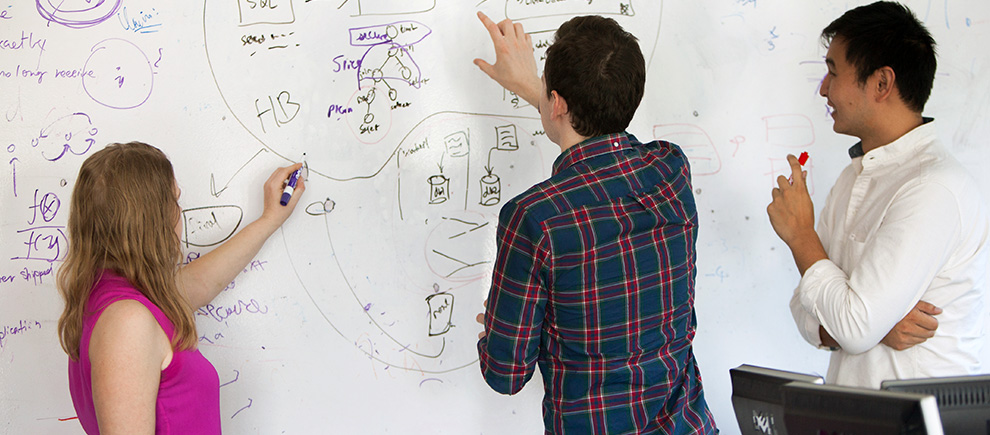 Collaborate in cohort setting
Work in parallel with other students who are exploring the space of ideas and applications together as a team.

Develop your own vision of the future
In the final capstone quarter, go beyond what you have learned and apply those ideas and technologies to create your own innovations.

Think beyond the technology
Working with faculty outside of CS, learn how the technologies of AI can be informed by and transform other fields such as psychology, human-computer interaction, organizational management, and marketing. Immerse yourself in an environment of ideas that shape the future of how we work and live our lives.
Welcome to the

Master of Science in Artificial Intelligence Program (MSAI)

Over the past ten years, we've seen dramatic progress in the rise of artificial intelligence and in its use in the development of systems that can reason and respond to increasingly complex situations. Quite simply, AI is everywhere and the change brought about by these technologies has just begun. As AI moves from idea to implementation, it is clear that future intelligent systems will be designed to partner with, rather than replace or even augment, human users.

Stemming from this growth in artificial intelligence technology is an increasing demand for individuals who can create AI systems embedded in practical settings that function alongside and in conjunction with human beings.

Drawing on Northwestern Engineering's whole-brain philosophy and leadership in cognitive science, the Master of Science in Artificial Intelligence program aims to serve this demand by producing students who have exceptional technical skills and also understand the nature of the human environments in which the systems they build will be deployed. Our goal is to educate and train students in all aspects of how the emerging technologies of machine intelligence can be designed and deployed to interact and integrate with human partners.

Learn more about the program
View the curriculum
Quick Facts
Degree Name

Master of Science in Artificial Intelligence

Duration

15 months (5-quarters), full-time, on-campus

Start Date

September

Course Structure

Four quarters of coursework (with industry interaction) and summer internship program 

Class size

40-student cohort

Program Features

Coursework in core AI as well as in HCI and human cognition
Focus on impact and integration that reach beyond the theory
Independent study project with faculty mentors
3-month external internship or work in Northwestern AI lab
Capstone project working with industry partners

Location

Evanston campus

Cost

Application Opens

September 1

Application Deadline

February 1:  International Early Decision

February 15:  International Final Decision

April 1:  Domestic Early Decision

May 15*:  Domestic Final Decision

 *If seats remain following April 1 deadline.
Student Profile
The program is for ambitious students who seek to become architects of intelligent systems as well as developers. With each cohort, the program strives to gather a diverse group of talented students in a creative and collaborative environment. The students in this program prepare to become hands-on thought leaders and are excited about building new AI products that can be embedded in human workflows. Our students focus on having a practical and transformational impact on the industries they serve. Prospective students should have a BA/BS in computer science or a related field, an existing knowledge of coding, and preferably at least two years of work experience in a related field.
Why Northwestern?
Engineering at Northwestern focuses on the impact of the ideas and technologies we develop. Our philosophy of whole-brain engineering reaches beyond technical excellence of engineering to its capacity to transform society. The Master of Science in Artificial Intelligence embodies this dedication to impact, integration, and whole-brain engineering. Northwestern's MSAI goes beyond the technologies of AI to look at the problems in the world that AI seeks to solve, creating powerful AI systems integrated into workflows, business, and human interactions.
The program features the following:
A rigorous study of the tools and techniques of AI
An exploration of the psychology of human interaction with intelligent systems and design implications
A view into the ways that business needs and workflow impact how intelligent systems are deployed
Industry access, including a capstone project and an internship with a leading company
Full-time, small cohort
Customized curriculum that combines CS, business, psychology, and design coursework
Tenured faculty from the McCormick School of Engineering, the Kellogg School of Management, and the Weinberg College of Arts and Sciences
Career Opportunities
Companies specializing in professional services and research institutions face volumes of data that cannot be addressed manually. These companies and institutions need intelligent tools that go beyond simple analytics and allow users and researchers to interact with and explore their data.
A recent poll found that globally, 84% of companies see AI as "essential" to competitiveness, while 50% see the technology as "transformative." However, despite the clear demand for AI products and workflows, other reports show a significant shortage of talent to fill positions related to artificial intelligence.
The Master of Science in Artificial Intelligence will not simply prepare you for these careers. Through internships and capstone projects, this program will also help connect you with companies and institutions who are industry leaders in AI.