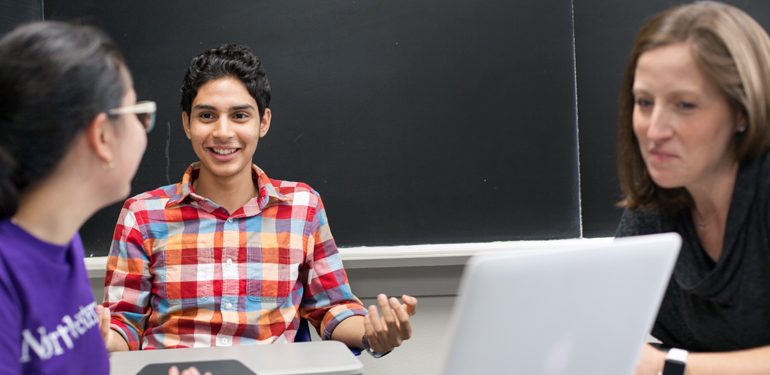 Program Admissions
Thank you for your interest in the Master of Science in Artificial Intelligence program. This page contains information about application requirements and deadlines.
Jump to a Section
Application Deadlines
Recommended submission deadline:  February 1 (International students) CLOSED;  February 15 (Domestic students) CLOSED
Final deadline:  April 30 **Extended to June 15 (domestic applicants only)
For the best chance of admission, ALL application materials should be submitted by the recommended submission deadline. We will give first consideration to all applications received by the recommended deadline and begin sending out admissions decisions shortly thereafter. Admissions decisions will continue to be sent out through the end of May. Applications received between the recommended deadline and the final deadline may not receive full consideration if the program is full.
Application Requirements
Before applying to the Master of Science in Artificial Intelligence program, please read the application requirements detailed below. These requirements outline the metrics used in evaluating applications. We use these factors as indicators to assess the likelihood of a student's success in the program. No one factor is the gateway, but each of these factors plays a role. If you have an argument for factors that we should or should not consider, please include it in your personal statement.
Degree
Individuals should have completed a BA/BS in Computer Science or in a related field.
Work Experience
A strong preference will be given to applicants who have work experience (at least two years) in a related field, such as development, design, or software architecture.
Application Fee
Non-refundable $75 application fee payable in US funds.
Transcripts
The online application requires you to submit a scanned, unofficial copy of your transcript from each college or university that you have attended. Please make sure that the scanned transcripts are legible before uploading them. If you are offered a place in the MSAI program and you decide to enroll, you will be required to submit one official copy of each transcript. Official transcripts should be sent directly from the issuing institution's registrar either mailed to the address below in sealed, unopened envelopes or emailed to msai@northwestern.edu as official electronic transcripts.
Letters of Recommendation
We require three letters of recommendation from either faculty at a prospective student's undergraduate institution, or from current employers/managers. If neither is available, applicants will need to provide a clear explanation why this is the case.
GRE Scores
Unofficial scores should be self-reported in the online application, and scanned copies of the scores may be uploaded. If scans are uploaded, program staff will contact ETS and verify your scores (no need to send official scores). If scans are not provided in the online application, official scores should be sent to Northwestern University Master of Science in Artificial Intelligence. Our institution code is 2601.
English Proficiency
Applicants to the MSAI program whose primary language is not English must demonstrate language proficiency in one of the following four ways:
Provide either a TOEFL or IELTS score. The test must be taken no more than two years before the intended enrollment. For the TOEFL, applicants must score 600 or higher on the paper-based test or 100 or higher on the internet based test. Our institutional code for the TOEFL is C038.  For the IELTS exam, applicants must receive a score of 7.0 or higher. 
Provide transcripts verifying an undergraduate degree from an accredited four-year institution or equivalent, where the language of instruction for the university or college is English (requires approval).
Provide transcripts verifying a graduate degree from an accredited institution where the language of instruction for the university or college is English (requires approval).
Provide transcripts verifying an undergraduate or graduate degree from an accredited institution in the U.S.
Resume
You must upload a current resume or CV in the online application.
Supplemental Material
The admissions team will review candidates for evidence of self-directed work in Computer Science such as shared code repositories (e.g., Github), open source publications, and developer's forums such Stack Overflow. Applicants should provide URLs to accounts and/or repositories.
Personal Statement
This is a critical part of your application, which give you the opportunity to articulate your motivations, aptitude and vision. In 500 words or less, address the following questions: 
Why are you applying for the Master of Science in Artificial Intelligence at Northwestern University?
Why are you interested in artificial intelligence?
Describe a significant problem that AI systems will help overcome in the next 5 years.
What are your career goals after graduating with an MS in Artificial Intelligence?

Please note our admissions committee will not read beyond 500 words total.
Candidate Video (optional)
The candidate video is currently an optional upload, but we do recommend uploading a video to allow the admissions committee to get to know you as a candidate. Please limit your video to 2 minutes long, as the admissions committee will not watch beyond 2 minutes.
Please note that the Master of Science in Artificial Intelligence is a small cohort program; students will have the opportunity to work with each classmate over the course of four academic quarters in the program. With this in mind, please use your video to help the admissions committee get to know your personality, work style, and leadership capabilities.
Themes to consider as you put together your video:
What is motivating you as you consider a degree in AI and how do you hope the Master of Science in Artificial Intelligence program will help you achieve your goals?

Describe your approach to AI problems; what excites you about AI project work, and your leadership style/capabilities?
Requirements for videos:
The video must feature only the candidate and not a representative speaking on the candidate's behalf.

We will not accept and/or watch videos submitted by email, videos posted to external URL (E.g., YouTube), or DVDs. Only uploads that follow the guidelines above will be considered.

File must be MP4(H264)/WebM format, 320x240px, and smaller than 10MB
Preliminary Programming Exam (If Admitted)
As part of the application process prospective students should include with their application evidence of self-directed work in Computer Science, such as a shared code repository (e.g., Github, open-source publication, developer's forum). In addition, if offered admission to the MSAI program, incoming students will take a preliminary programming exam prior to the beginning of the Fall term.
This exam will not be used to determine admission, rather it will be an assessment of basic programming skills for new students. The score will be used to suggest, if necessary, areas to strengthen before the start of the program. The goal is that students arrive with the same basic skills, and this exam is designed to help diagnose any deficiencies that should be addressed beforehand.
Resources - including a practice exam - will be provided following an offer of admission in order to help with preparation.
Practice exam will be taken remotely, with answers submitted electronically
Answers must reveal code that is understandable
Programming language of choice may be used (e.g., Python, Java, C), with the exception of pseudocode
Approximately one week before classes begin, a similar exam will be administered at the Northwestern campus.
Exam will be proctored
Exam is closed-book, closed-computer, no calculator, notes, collaboration, or Smartphone may be used
Students will use pencil and paper to take the exam
Programming language of choice may be used (e.g., Python, Java, C), with the exception of pseudocode
More in this section