Undergraduate
Northwestern Baja Team Braves Cold for Top-5 Finish
The Motorcats competed January 28 in Houghton, Michigan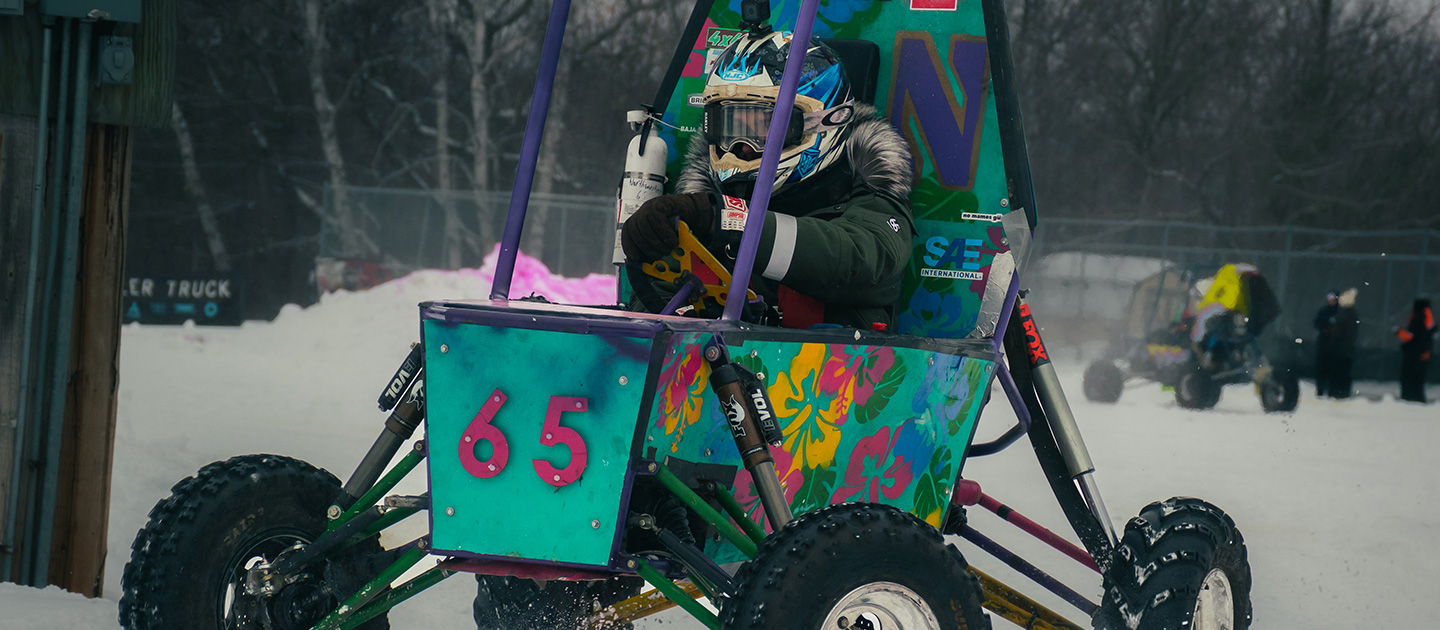 The Winter Baja Race is perhaps the ultimate trial for a team's car. The drivers must navigate an icy track, and the automobile has to survive the sharp winter cold of a January day in Michigan's Upper Peninsula.
The Northwestern Baja Motorcats passed the test.
In a field of 42 cars, the Motorcats' 2022 vehicle "Toro" finished fifth with 41 completed laps. Held January 28 in Houghton, Michigan, and hosted by Michigan Technological University, the event is an annual snow and ice Baja competition with teams mostly from midwestern universities, pitting them against each other in conditions that would generously be described as challenging.
That didn't stop the Motorcats, who brought their 2022, 2021, and 2019 cars to the race. Two (2022, 2021) were all-wheel drive, allowing the Motorcats to better navigate the tricky terrain. Northwestern was also able to alleviate other issues such as battery problems that had hurt its results in prior races.
The team itself has new vigor after emerging from the COVID-19 pandemic.
"Coming out of COVID-19 and being able to recruit properly and have people with a lot of energy and a lot of support and visibility pumped up the team," said project manager Laura Ferrucci, a mechanical engineering major expected to graduate this spring.
Joining the Baja team has clearly energized Ferrucci, who served last school year as the team's ergonomics lead.
"It has been the most captivating, influential, powerful experience for me," Ferrucci said. "There's the engineering experience I had last year, and this year I've had incredible leadership, management, and communication experience that you cannot get in a classroom from learning theory."
"Dory," the team's 2021 car, finished 18th with 25 laps. "Tina," the 2019 car, came in 24th with 22 laps.
The Baja team will compete again May 4-7 in Oshkosh, Wisconsin.