Events
Finding Emotion and Empathy in Science
Dario Robleto discussed his new exhibition during a February 4 opening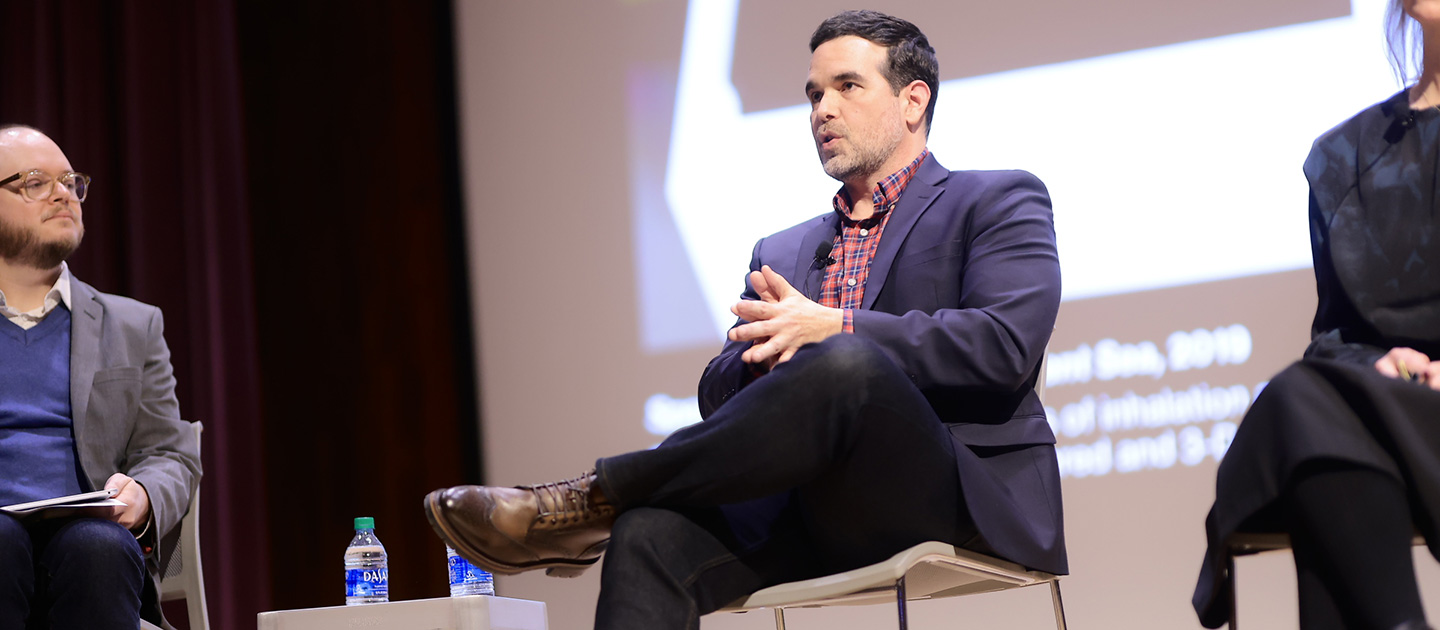 Through art, Dario Robleto attempts to expand human empathy and the understanding of other's emotions and experiences. In "The Heart's Knowledge: Science and Empathy in the Art of Dario Robleto," he asks the provocative question as to whether empathy extends beyond the boundaries of time and space.
The exhibit, Robleto said, is inspired by Ann Druyan, a member of the 1972 team that placed a golden record on the Voyager 1 and Voyager 2 spacecrafts. Druyan's job as creative director was to produce an audio portrait of the planet, adding sounds such as crickets chirping and wolves howling. In a radical step, she also included recordings of her own heartbeat and brain waves, wondering whether aliens could eventually read her mind if they came across one of the Voyager probes. In addition to history and facts about life on Earth, Druyan also "smuggled love on board the Voyager" thinking about her recent engagement to scientist Carl Sagan.
"This show is framed as an answer to a question, which is: what does one gift to the only woman whose heart has left the solar system?" Robleto said. "This show is a proposal of an answer. I don't think I can ever really answer, but it's a beginning. Part of that is to create space to take the provocative, radical nature of her question very seriously. Is love recordable at the level of information of the body, and is it decipherable at a later date by beings we don't know if they are there and certainly can't share sensory experiences?"
Robleto posed that question during "Science, Art, and the Search for Meaning: Opening Conversation with Dario Robleto," a February 4 event held in front a capacity crowd at McCormick Auditorium inside the Norris Center. Moderated by Michael Metzger, Pick-Laudati Curator of Media Arts at the Mary and Leigh Block Museum of Art, the roundtable discussion featured Robleto, along with Harvard art historian Jennifer Roberts, and astronomer Lucianne Walkowicz, and marked the start of "The Heart's Knowledge: Science and Empathy in the Art of Dario Robleto." The exhibition, which culminates Robleto's five-year engagement as Northwestern Engineering's inaugural artist-at-large, will run until July 9.
The benefits of merging science and emotion were one of the event's themes.
Robleto works with artificial heart researchers who are at the forefront of what could be a life-altering technology. The scientists have theorized that an artificial heart doesn't need to beat at all, an idea that is driving their recent investigations.
In 2011, a prototype heart was implanted in a Houston patient named Craig Lewis. The side effect of the device was that Lewis would have no heartbeat, pulse, or electrocardiogram (EKG), meaning he flatlined on every monitor despite being alive.
The medical science involved was truly remarkable – Lewis lived with the artificial heart for five weeks before dying of an underlying disease – but the story also shows why there's room for emotion in science. When Lewis was wheeled out of surgery, his wife Linda's first question to him was whether he still loved her.
"I would argue this question is as important as any other question that preceded it in the scientific/engineering side," Robleto said. "There was zero room or attention given to it because that is quite silly in some circles to address. We can certainly feel silly if we want, but I want to take [the question] at its provocative depth and ask because no human, no partner has ever had to contend with what Mrs. Lewis did that day, which is: a person they love was alive without a pulse, electrocardiogram, or heartbeat."
Some consider such emotional questions in science taboo. Roberts said she's experienced that disregard in the humanities, though the field is finding more room for emotional thought.
"People have often been afraid of making themselves vulnerable as analysts of poetry or the arts," said Roberts, a humanities professor at Harvard University, art historian, and collaborator with Robleto. "That's something about Dario's work that was really important for me, in learning to confront those taboos in the humanities."
Seeing the emotional space open for scientists has been interesting for Walkowicz to watch. They remembered the outpouring of emotion when the Opportunity Rover on Mars was deemed unreachable in 2019, but noted there is still resistance to feelings in science.
Walkowicz recalled in 2019 when it appeared the star Betelgeuse in the Orion constellation could become a supernova, they wrote an essay saying they would be sad if the celestial body effectively died.
"I got some supportive comments," said Walkowicz, an astronomer and co-founder of the JustSpace Alliance. "The Internet being what it is, I also had some people tell me to stop being so emotional about Betelgeuse."
 For Julio M. Ottino, dean of Northwestern Engineering, and Lisa Graziose Corrin, the Ellen Philips Katz Director of the Block Museum of Art, the panel discussion and exhibition opening marked an important milestone in their collaboration exploring opportunities at the intersection of art and engineering.
During his introductory remarks, Ottino said Robleto was a perfect choice to be the inaugural artist-at-large. Robleto held discussions with researchers from many disciplines, finding a special kinship with McCormick synthetic biologists.
"I want to thank Dario for taking so much time to be here with us for the last five years," Ottino said. "The exhibition exceeds our wildest hopes for this program, and I'm happy that so many of you will get a chance to see Dario's work, the incredible attention to detail, and the expansiveness of thought."
"The partnership between the museum and [McCormick] is built on a shared belief that at the heart of their respective practices, artists, and scientists are asking the same fundamental questions," Graziose Corrin said during her opening speech. "They are the questions we might have asked ourselves as children lying in bed at night full of wonder and curiosity, in the darkness, precociously pondering the fundamental questions of human existence. 'What is life? What happens when we shuffle off this mortal coil? Is there life out there in the universe beyond the beautiful, beautiful, magnificent desolation?'
"Art and science are both acts of faith in the imagination. Uniting their respective perspectives, methodologies, and technologies, and motivated by the mysteries of the cosmos and the mysteries of what it means to be human, they ponder material and interior spaces that often lay beyond our comprehension."
About the Artist-at-Large Program
The Northwestern University Artist-at-Large Program grew out of a series of campus artist visits hosted by the Block Museum and Northwestern Engineering. In spring 2018, Dario Robleto embedded himself within Northwestern's Chicago and Evanston campuses as the program's first artist-at-large, earning a "hall pass" to attend courses, visit laboratories, and meet regularly with faculty and students from across McCormick and beyond — including astrophysics, bioethics, cardiology, computer science, neurology, the Segal Design Institute, sound studies, and synthetic biology, among others. These collaborations placed Robleto in direct contact with the engineers and scientists whose work would be catalytic for his artistic practice and inspire his exhibition.
The Artist-at-Large program is part of Northwestern Engineering's Art + Engineering Initiative, and has been generously supported by the Barry and Mary Ann MacLean Fund for Art and Engineering.