Honors and Awards
John Rogers Receives 2019 Benjamin Franklin Medal
Rogers cited for foundational work in bio-integrated electronic systems
Northwestern Engineering's John A. Rogers has received the 2019 Benjamin Franklin Medal in Materials Engineering from The Franklin Institute, one of the oldest centers for science education and development in the country.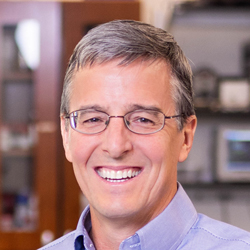 Rogers is the Louis Simpson and Kimberly Querrey Professor of Materials Science and Engineering and professor of biomedical engineering in the McCormick School of Engineering, professor of neurological surgery in the Feinberg School of Medicine, and director of the Center for Bio-integrated Electronics. He also is a member of the Simpson Querrey Institute, and has affiliate appointments in chemistry, mechanical engineering, and electrical engineering and computer science.
The Franklin Institute cited Rogers "for pioneering the engineering of flexible and stretchable electronic systems for e-health and exploratory neuroscience."
Among six researchers across all disciplines in the Institute's Class of 2019, Rogers will officially accept the award at a ceremony on Thursday, April 11, 2019 in Philadelphia.
Founded in 1824 to honor Benjamin Franklin, the Franklin Institute recognizes excellence in science and technology through its annual awards. Previous recipients include Nicola Tesla, Marie Curie, Thomas Edison, and Albert Einstein.
A member of the National Academy of Engineering, the National Academy of Sciences, and the American Academy of Arts and Sciences, Rogers is an internationally renowned materials scientist, credited with the development of electronic devices that can bend, stretch, twist and, in certain embodiments, dissolve harmlessly in biofluids. These systems can non-invasively integrate with the soft tissue surfaces of the human body to provide diverse, clinically relevant diagnostic and therapeutic modes of use. Rogers' interdisciplinary research combines expertise from nearly every traditional field of study in science and engineering, with outcomes that have changed the way that people think about industrial, consumer, and biomedical electronic devices.
Examples of results over the last two years include bioresorbable stimulators for the accelerated neuroregeneration of damaged peripheral nerves, non-invasive sensors of flow through ventricular shunts for treating hydrocephalus, skin-integrated microfluidic systems for analysis of biomarkers in sweat, and wireless, battery-free devices for personalized measurement of exposure to ultraviolet light from the sun. The devices for sweat analysis are in field trials on professional athletes for ensuring proper hydration and on infants for screening for cystic fibrosis. Designs of the original device were featured in a special exhibit at the Museum of Modern Art in New York City in late 2017 and were acquired by the museum for incorporation into its permanent collection in early 2018. 
The devices for ultraviolet dosimetry are in human subject studies that focus on melanoma survivors. This technology was launched in late 2018 as a consumer product with L'Oreal, now exclusively available at all Apple stores across the United States, as a precursor to worldwide release in early 2019. 
Rogers has received numerous other honors and awards for his work, including the Lemelson-MIT Prize, the MacArthur Fellowship, and the Smithsonian Award for American Ingenuity in the Physical Sciences.