Canva Usage
Canva is a digital graphic design tool used to create banners, flyers, event advertising, social media posts, and presentations. Departments, programs, centers, and offices within McCormick use our Canva Enterprise account as a hub for promotional materials, with Northwestern Engineering fonts, colors, and logos preloaded into the platform for users.
Canva Training Video
A video tutorial of our Canva Enterprise account collaboration space is available:
Jump to a section to learn how to complete specific tasks:
Homepage: Getting started on Canva, navigating around the homepage, contacting Canva help center, and finding recent designs.
Navigating your team's folder: Exploring the "Shared with you" tab, finding your team's projects and media assets, creating sub-folders for events or announcements, and organizing your folders.
Templates and brand kits: Exploring the McCormick Team Space, finding branded templates and template sets, changing between list view and grid view, and understanding brand kits.
Creating a design with a template and branded fonts/colors: Selecting a template to use, renaming your new design, saving it into the right folder, replacing template text, moving/dragging elements, grabbing multiple elements, and using the undo/redo feature.
Using images and QR codes: Finding images in your media folder from the design editor space; uploading images, renaming, inserting, and cropping images into your design; finding/using your team's brand kit; and creating QR codes.
Downloading your design: File type use cases such as PDF's and pngs and downloading your design as a powerpoint file.
Themed Template Sets
Canva's platform provides an easy way to create consistently branded messaging in promotional materials. An upcoming event can be quickly advertised on Facebook, Instagram, Twitter, LinkedIn, digital monitors throughout McCormick, and through printed flyers, with elegant and communicative themed templates. Zoom webinar introductory slides and powerpoint presentations are also available in themed template sets for virtual events.
Facebook, Twitter, LinkedIn
Please follow our social media guidelines when creating social posts.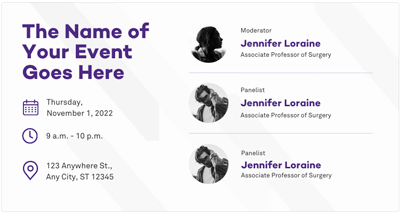 Instagram
Please follow our social media guidelines when creating social posts.
Digital Monitor Ad
Please follow our digital signage guidelines when creating ads for our digital monitors.
Zoom Introduction Slide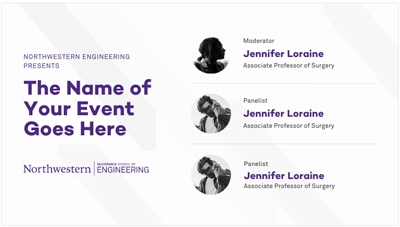 Poster and Printed Flyer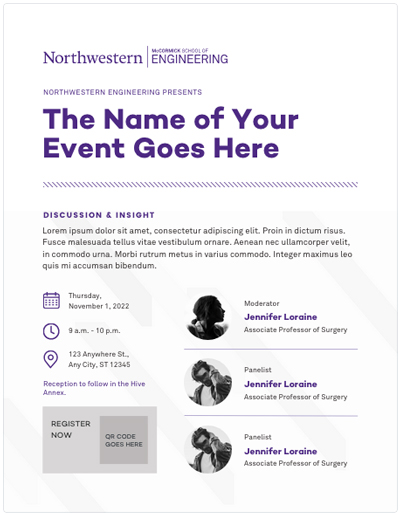 More in this section