Class Notes
Mission Next
Having cofounded and guided Shield AI to global leadership in intelligent autonomous systems design, entrepreneur Andrew Reiter eagerly anticipates his next new challenge—climate change.
In the military world, danger—an unseen combatant, a threatening counterassault—may lurk behind every door, every corner. But what if military personnel could gather more information in advance of a potential threat?
Andrew Reiter ('10) cofounded Shield AI to help tackle that very question.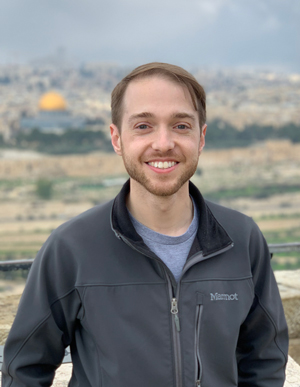 "If you can put eyes and ears into a situation to know who and what is where, then you can change your tactics accordingly," Reiter says.
Over the past eight years, Shield AI has grown from "three guys in a garage" into a 500-person global enterprise working, in Reiter's words, "on technology at the forefront of what is possible."
Beginning with the launch of its first product—a compact autonomous quadcopter that can fly inside buildings and stream real-time maps and videos—Shield AI has been on an upward trajectory to become a leader in the field of autonomous systems. The company's artificial intelligence (AI) architecture has been integrated into larger aircraft, including F-16 planes, and it has recently introduced an AI pilot that enables swarms of drones and aircraft to operate autonomously without GPS, communications, or human intervention.
Forbes has called Shield AI one of America's most promising AI companies. Fast Company hailed it as one of the world's most innovative.
As a chemical engineering major at Northwestern Engineering in 2006, Reiter could not have foreseen the career turn that would lead him to cofound Shield AI. His intrinsic interest in robotics, however, exploded when he won the 2009 McCormick Autonomous Robot Design Competition alongside Andrew Dai ('10) and Eric West ('11).
"I loved the short feedback loop in robotics and making changes that were immediately manifested," Reiter says.
The climate emergency waits for no one and needs all the help it can get.Andrew Reiter
After earning a master's degree in robotics from Harvard University in 2012, Reiter worked on GPS-denied navigation at Draper, a Boston-based engineering lab focused on national defense. There, he led a team developing a handheld system for 3D scanning and reconstruction and another that created a quadrotor for fully autonomous exploration.
Those innovations spurred former Navy SEAL Brandon Tseng and his entrepreneur brother, Ryan, to fly from San Diego to Boston for a face-to-face meeting with Reiter. The Tsengs envisioned creating an autonomous quadrotor for wartime situations but needed technical expertise to transform their idea into a tangible reality.
"It was the perfect meetup of cofounders," Reiter says. "After eight hours, we had the loose strings of Shield AI in place."
As the United States and its allies have increasingly embraced the potential of AI in national security, Shield AI has become a prominent early mover. It has deepened relationships with military partners in the United States and abroad, earned investments from heralded firms like Andreessen Horowitz and Homebrew, and continued advancing its technology for military reconnaissance.
Though Reiter left Shield AI in the fall of 2022 and returned to Boston, he remains a company adviser. He is now plotting his next professional steps with a target on decarbonization, perhaps through efforts in nuclear energy or energy storage.
"That's my next adventure," Reiter says. "The climate emergency waits for no one and needs all the help it can get."