From the Battlefield to the Business World
Elliot Gardner shares how the MLDS program helped him transition from his military career to a new role as senior data scientist for Decision Spot.
Being stationed in a literal warzone helped Elliot Gardner (MSiA '19) understand the importance of accurate data analysis.  
Being a student in Northwestern Engineering's Master of Science in Analytics (MSiA) program — now known as the Master of Science in Machine Learning and Data Science (MLDS) program — helped him develop his data analytics skills and assisted with his transition from the military to the business world.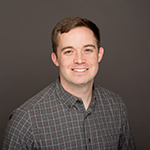 Gardner spent nearly a decade in the military – including a stint with the 101st Airborne Division in Kunar, Afghanistan. Today, he is a senior data scientist at Decision Spot, a company founded in 2021 that specializes in supply-chain optimization.   
The MSiA program caught his attention as he explored career options while preparing to leave the military.  
"I saw data science as a way to use an analytical mindset that I had developed in the Army and couple it with the mathematics fundamentals I had from college," Gardner said. "I liked the cohort-based system a lot. Being able to form stronger relationships with my cohort classmates, especially after coming out of a tight-knit military environment, was also appealing."  
Gardner's military career took him around the world and ended with a stop in Kuwait as company commander of the Headquarters Support Company of the Headquarters and Headquarters Battalion, III Corps, in 2017 and 2018. He started with the MSiA program later that year.  
Gardner said he found tremendous value in every course in the MSiA curriculum, especially the Analytics Value Chain class.   
"This end-to-end process, coupled with an adherence to Agile development practices, was the best preparation I had for my work as a data scientist," he said. "When I talk with graduates from other programs, it seems to be a fairly unique offering for a data science program." 
Gardner started at Decision Spot in January 2022. There, he serves as an individual contributor and team leader for other data scientists who are consultants for some of the company's clients.  
To be successful in his job, Gardner leans on his solid understanding of statistics and mathematical modeling techniques, as well as what he called an "intermediate competency in computer programming and a decent level of business acumen."  
The MSiA program helped him develop a variety of skills he applies daily at Decision Spot. Not all of them are hardcore analytics skills, either. Gardner said the program emphasized a key lesson he had learned in the military.  
"I learned being a good team player and at times a good manager of others is the most important soft skill," he said. "The courses put a big emphasis on team-based work, which is a good replication of what data science work often looks like."  
Because of his own experiences and his successful transition from the military to the business world, Gardner has become a strong advocate of the MSiA program for prospective students.  
He said the program distinguished itself with its cohort system and the professional experience brought to the classroom by many of its instructors.   
"The program does a really good job structuring the coursework, practicums, internship requirements, and capstone project to prepare you for a career in data science and to help you land that first role," he said. "There are programs that are really just giving you the barest bones exposure to data science topics without an understanding of why you might do certain things and with faculty who aren't truly experienced in the data science world. MSiA is not that."