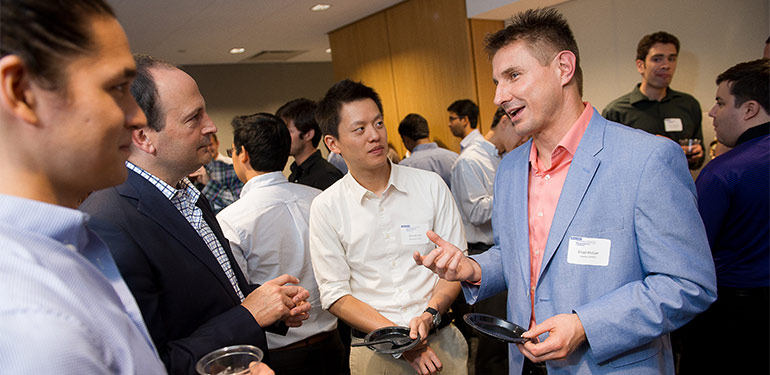 Industry Collaboration
The Master of Science in Machine Learning and Data Science program enhances in-class learning through industry collaboration. Students build professional networks and connections as they apply coursework to real-world workplaces.
Learn more about becoming an industry partner
Internships
An internship is a core requirement for graduation from MLDS. Students seeking their internship will have completed three quarters of coursework and are motivated to apply their new skills to a professional setting. Interns may be employed to tackle discrete projects or supplement existing teams.
Learn where our students have interned in the past
Practicum and Capstone Projects
Students engage with industry-sourced, applied projects twice. Under the guidance of business and technical advisers, a team of four or five students works together to provide effective and efficient solutions for their clients while applying analytical skills developed through coursework. Practicum projects last eight months, and Capstone projects last ten weeks.
Data Sets and Class Projects
Classes in the Master of Science in Machine Learning and Data Science program rely on a wealth of data. Providing data sets offers refreshing insight and exposure to otherwise under-used information.
Guest Lecturers
Industry leaders visit Northwestern to lecture in a class about a topic or issue in which they have particular experience. For students, opportunities to interact with established professionals in these settings are of immense value.
Industry Workshops and Seminars
Organizations and individuals may speak at and attend program-sponsored seminars and workshops hosted at Northwestern University, which foster cross-industry dialogue to explore best practices, recent innovations, and common problems in data science.
Employment
Alumni of the Master of Science in Machine Learning and Data Science program are prepared for immediate employment in a variety of professional environments. Our graduates are highly sought after by data-savvy organizations.
Learn more about placement and previous career offers received by our students
More in this section