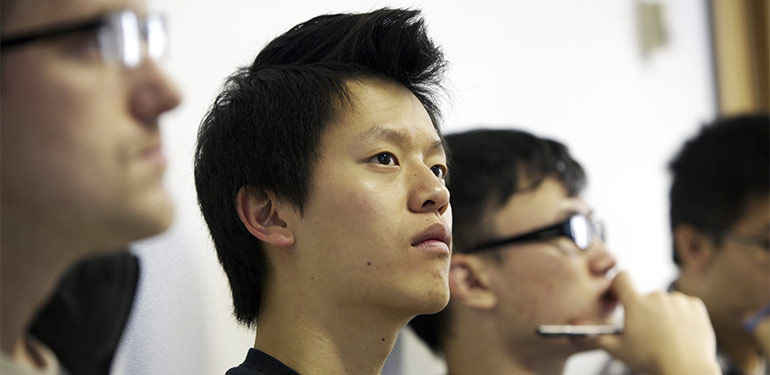 Frequently Asked Questions
Jump to a Section
Information on the admissions process can be found here, while specific information on application materials can be found here. Below are some questions and answers regarding admissions for the Master of Science in Machine Learning and Data Science program at Northwestern University.
Admissions Process
How do I apply to the Master of Science in Machine Learning and Data Science program?
Complete an online application form. Our application opens on September 1st and closes on January 15th.
McCormick Online Application System
When are applications due?
Scholarship Priority Deadline: December 1, 2023, 11:59PM CST

Regular Decision Deadline: January 15, 2024, 11:59PM CST
Applications completed by the Scholarship Priority Deadline will receive consideration for both admission and scholarship funding, as part of the application review process. Applications finished by the Regular Decision Deadline are considered for admission and for scholarship funding, if openings and funds are still available. 
When are decisions made?
All admissions decisions are announced in mid-March.
Is admission to the Master of Science in Machine Learning and Data Science rolling?
We do not evaluate applications on a rolling admissions basis. The application for each cohort opens on September 1st and closes on January 15th. The admissions review committee will notify all applicants of their admissions decisions in mid-March.
Application Materials
Is the GRE or GMAT required to apply to the MLDS program?
No, providing GRE or GMAT scores is optional.
If provided, preference is not given to one exam over the other. To be considered, GRE and/or GMAT scores can be no more than five years old from the date of matriculation. 
More information on GRE and GMAT
What is the average GRE/GMAT score for students admitted to MLDS?
MLDS does not have a minimum GRE or GMAT score requirement. However, the strongest candidates typically have strong scores across all sections of either exam. 
Are TOEFL/IELTS scores required?
Yes, we require TOEFL or IELTS scores for applicants who are not U.S. citizens or permanent residents and have not had English as their primary language of instruction at the university level. We require a minimum score of 95 for the TOEFL and 7.5 for the IELTS.
Do I need to provide an official transcript?
Please do not send us official transcripts during the application process. Official transcripts delivered by sealed envelope or in secure electronic form are needed only after acceptance and commitment to the program. 
More info on transcript requirements
International Candidates
Do I need to prove my English Proficiency?
International candidates who will not or do not hold a degree from an institution where English is the primary language of instruction must submit TOEFL or IELTS score reports to prove their English Proficiency. You will need a minimum score of 95 for the TOEFL and 7.5 for the IELTS to be eligible for admission.
More info on English proficiency
I am an international student who attended a three-year university. Will my three-year undergraduate degree be accepted?
Yes. We understand that many educational systems have three-year undergraduate programs, and we welcome anyone with a three-year bachelor's degree from a regionally accredited institution to apply. There is also no functional disadvantage to applying with a three-year degree when it comes to the competitiveness of your application.
Is MLDS considered a STEM program?
Yes, we are considered a STEM program by the Department of Homeland Security. Non-U.S. citizens or permanent residents in our program qualify for an OPT (Optional Practical Training) extension to their visas upon graduation.
Student Background
Am I required to know all the systems used in this program before classes begin?
No, incoming students rarely have full mastery over every topic we cover in the program. We always host a two-week Bootcamp/Orientation to ensure everyone has a solid foundation in the core concepts and systems used during the 15-month curriculum. Candidates applying for admission do not need to have formal training in any programming languages, however, our most successful applicants have proven aptitude for programming and statistical tools. 
Can I apply to the MLDS program if I don't have a degree in data science? 
We consider applicants from a wide range of academic disciplines and interests; applicants from all backgrounds are encouraged to apply. However, candidates with strong quantitative skills or academic/professional background in mathematics, IT, and programming are more competitive in the application process and well-prepared for our curriculum when they start the program. 
Additional Questions 
Is it possible to pursue a dual degree at Northwestern with MLDS?
No, it is not currently possible to pursue any other degrees while enrolled in the MS in Machine Learning and Data Sciences program.
Can I apply for a quarter outside of the fall?
No, our cohort model, which guarantees our small class sizes, collaborative environment, and individualized attention, relies on everyone in a cohort taking (mostly) the same classes concurrently.
Can I defer my enrollment?
MLDS almost always denies requests for deferrals, unless they are made due to an extreme extenuating circumstance, such as severe, unexpected illness, or some other unforeseen crisis.
Are there work opportunities within the program?
Students in the Master of Science in Machine Learning and Data Science program are not able to apply for teaching assistant or research assistant positions through our department. Opportunities in other programs occasionally present themselves, though we cannot guarantee their availability in a given year.
Can I enroll in MLDS classes part-time or online?
The Master of Science in Machine Learning and Data Science program is a full-time, on-campus, day program. We do not have online or part-time options available.
I have more questions about MLDS or about my application. Who do I contact?
Learn more about the program by signing up for our information sessions. For any specific questions you have as a prospective student, please email MLDS. 
More in this section