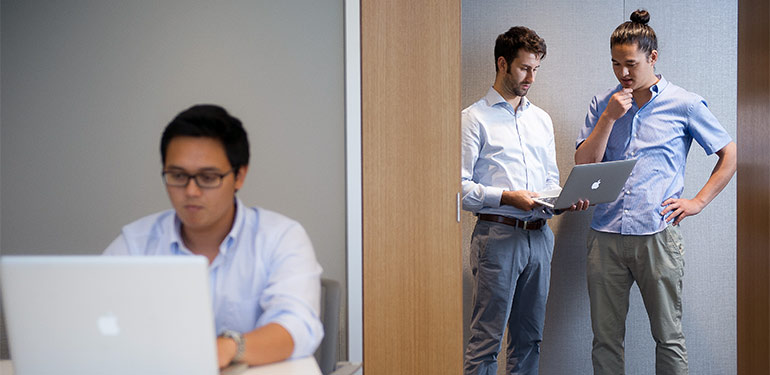 Frequently Asked Questions
Please visit our admissions page for questions regarding the admission process.
What is the student profile for MLDS?
Students in the Master of Science in Machine Learning and Data Science program are exceptionally talented and motivated. Read our student and alumni profiles for more information on their backgrounds and experiences. 
Am I required to know all of the systems used in this program before classes begin?
Students entering the program are not required to have a mastery of all the systems used during the program prior to their arrival. The program hosts a week-long bootcamp and orientation before the first quarter of study to build a foundation for systems used during the program. Candidates applying for admission do not need to have formal training in any programming languages; however, our most successful applicants have demonstrated an aptitude for programming and statistical tools. 
Can I visit campus?
Prospective students are welcome to visit and take a general tour of the Northwestern campus through the undergraduate admissions office. Admitted students will be invited to visit campus, with some travel reimbursement available.
Is it possible to pursue a dual degree at Northwestern with MLDS?
It is not currently possible to pursue a dual degree with the MLDS program.
Can I continue to work and take classes part-time or online?
The Master of Science in Machine Learning and Data Science program is a full-time, on-campus, day program and students must be available to work on their Practicum projects, Capstone projects, and coursework, and commit to attending career development and networking events. We do not have online or part-time options available.
Is MLDS a STEM program?
MLDS is based in the McCormick School of Engineering and Applied Science and is therefore considered a STEM program, which qualifies international students for OPT extension.
I have more questions about MLDS or about my application. Whom do I contact?
For any additional questions, please email us at mlds@northwestern.edu. 
More in this section