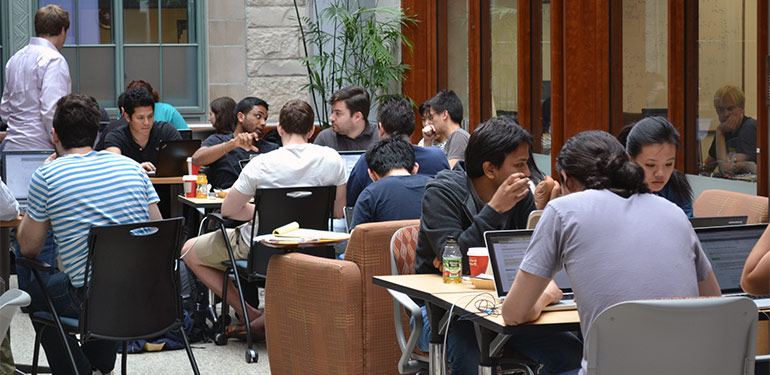 Application Materials
Any questions about applying to the Master of Science in Machine Learning and Data Science program should be directed to our program staff: mlds@northwestern.edu.
McCormick Online Application System
Jump to a Section
Letters of Recommendation
MLDS requires candidates to provide three letters of recommendation. Recommendation letters should be from professional supervisors, academic instructors, and/or research advisors. The ideal balance between professional and academic letters of recommendation depends on how recently you were enrolled in a degree program.
While these are not strict requirements, we recommend using the following table as a guide for how many letters, of each type, we advise you to provide. 
| | | |
| --- | --- | --- |
| Years Since Completing Undergraduate Degree | Academic | Professional |
| 0 | 3 | 0 |
| 1-3 | 2 | 1 |
| 3-5 | 1 | 2 |
| 5+ | 0 | 3 |

In addition to the above suggestions, we encourage you to meet with your recommenders in advance, to ensure they are aware of our application deadlines and that they address the following in their letters:
How they know you and why they are qualified to assess your suitability for a Master's program in Machine Learning and Data Science.

Distinctive qualities and/or examples which highlight your strengths

How you compare to others in your peer group
We also appreciate when letter writers include added context for your interest in graduate school and MLDS in particular.
Personal Statement
The personal statement is a vital part of your application. You can make the most of this requirement by taking care to illustrate your personality, motivations, and creativity. Examples of past questions include:
Why are you interested in our program? Furthermore, why are you applying to the Master of Science in Machine Learning and Data Science program at Northwestern University?
What skills or abilities do you hope to strengthen during your time in the program?
Describe a trend that will influence analytics over the next five years.
What are your career goals after graduating from the Master of Science in Machine Learning and Data Science program at Northwestern University?
Please be aware that personal statement questions are subject to change. See this year's application for the final questions. 
Transcripts And GPA Requirement
We require a minimum, cumulative GPA of 3.0 on a 4.0 scale to be eligible for admission. You can apply for admission while you are still earning your undergraduate degree if your degree is conferred before you enroll.
Undergraduate egress (or the international equivalent) must be from a regionally accredited institution.
If available, please be sure to include the institutional grading scale with your unofficial transcript(s). Candidate must include an electronic copy of unofficial transcripts from all degree conferring institutions or anywhere relevant coursework was completed. Please do not send official transcripts to the program.
Unofficial transcripts must be legible e-transcripts or digital copies. Transcripts in a language other than English must be provided in both their original format as well as with a certified translation, preferably from the issuing institution, from a certified translation agency such as the American Translators Association. We also accept WES (World Evaluation Service) and ECE (Educational Credential Evaluators) Evaluations as substitutes, but they are not necessary if you do not otherwise plan to obtain one. 
Prerequisites
We recommend that all applicants highlight their quantitative skills, as well as any academic or professional experience they have with mathematics, information technology, and programming. We do not have strict prerequisites for admission into the program and encourage prospective students from a wide variety of academic backgrounds to apply.
For those looking for specific recommendations on how best to prepare for our curriculum, we suggest (but do not require) taking courses in or independently studying the following subjects through local colleges, Massive Open Online Courses (MOOCs), or any other resources available to you:
Calculus

Linear Algebra

Probability
Statistics
R
C/C++
Java
Python
Please be sure to include information about any courses in programming or quantitative subjects you have taken that are not reflected on your transcripts when completing your application. 
GRE and GMAT
The Master of Science in Machine Learning and Data Science program does not require either GRE or GMAT scores to be eligible for admission. They are entirely optional. However, we will accept and evaluate GRE or GMAT scores if provided.  
Please do not send us official GRE or GMAT score reports. Official score reports will be collected prior to matriculation if you are admitted and choose to enroll. GRE or GMAT scores must be verifiable as of the date of matriculation. Typically, this means that you must have taken your exam no later than five years ago, as of September in your quarter of entry.
English Proficiency
International candidates who will not or do not hold a degree from an institution where English is the primary language of instruction must prove their English proficiency by sitting for either the TOEFL or IELTS exam. 
The lowest acceptable score for the TOEFL is 95 (Internet-based test) and for the IELTS, 7.5. Test scores must be less than two years old as of your enrollment.
COVID-19 UPDATE: MLDS will accept the submission of TOEFL test scores through their at-home testing service to meet this requirement. 
Please do not send us official TOEFL or IELTS score reports. Official score reports will be collected prior to matriculation if you are admitted and choose to enroll. 
Resume or CV
Please include all relevant professional and/or academic experience including relevant coursework (if applicable).
There is no page limit for the resume or CV, but the average CVs and resumes we receive are between one and two pages long. 
Candidate Video
The candidate video is optional but strongly encouraged. Because the Master of Science in Machine Learning and Data Science program at Northwestern University is a small-cohort program, students must work together in a collaborative manner. Your candidate video should allow the admissions review committee to gain a better understanding of your personality, work style, and leadership capabilities. You can speak about your candidacy in a more general sense or go into specifics. 
Themes to consider as you put together a video:
Motivations for considering a degree in machine learning and data science, especially our program at Northwestern

Your career goals and how we will help you achieve those goals

Your approach to analytics problems, leadership, or learning.

Your interests and areas of passion
This is one of the few places in your application where you can speak directly to the admissions committee. Please include information that we may not otherwise get to hear from you.
Requirements for videos:
The video must feature only the candidate and not a representative speaking on the candidate's behalf.
Candidate videos must be uploaded to the online application. The admissions review committee will not accept videos sent via email or external links (e.g. via other video hosting sites).
Supplementary Materials
The admissions review committee will consider all related coursework, including online or non-degree coursework. If you have supplemented your education via certification, please be sure to include this in your application. 
Application Fee Waiver for Veterans
The Master of Science in Machine Learning and Data Science program will waive the application fee for US veterans and active duty military and for participants in the GEM (Graduate Education for Minorities) fellowship program. Please email us at mlds@northwestern.edu to receive your waiver, if you are eligible. 
More in this section