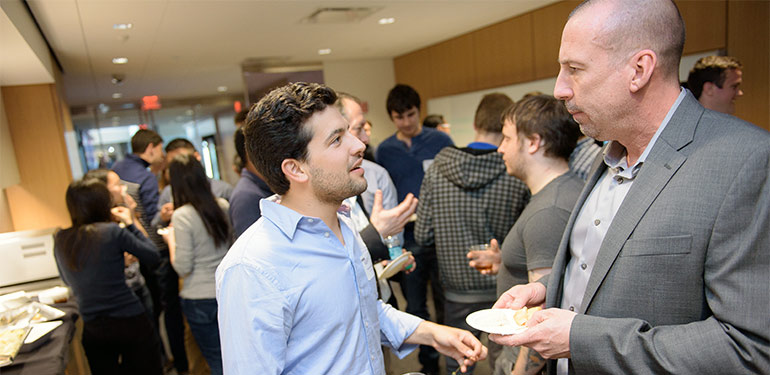 Industry Partners
Transform your business. In our information-saturated world, where companies gather a lifetime of material on customers in a heartbeat, businesses must harness the potential of data and turn it into a competitive advantage.
Moving beyond simple data analysis, the Master of Science in Machine Learning and Data Science program from the McCormick School of Engineering and Applied Science at Northwestern University equips students with the technical knowledge and business acumen necessary for translating complex data sets into meaningful information. These insights are vital to making intelligent business decisions and increasing the bottom line.
This is your opportunity to engage with top-notch students who will become the new leaders of the field. Let them help you transform your business.
Download our Employer Brochure
Jump to a Section
About Our Students
Students leave the program with the ability to lead via our three-pronged approach:
Business: Students integrate strong business acumen, communication skills, and management ability into their work. 
Data Engineering and IT: Students learn how to build end-to-end cloud solutions, train in Java, Javascript, Python, and R, preparing them for high-tech roles.
Data Science: Students explore all three areas of data analysis—predictive (forecasting), descriptive (business intelligence and data mining), and prescriptive (optimization and simulation), using industry-leading tools such as Spark, TensorFlow, AWS, SQL, Hadoop, Hive, Tableau, and D3.
Meet Our Current Students
Explore our student profiles from this year's class. Each student profile includes contact information, educational background, a short biography, and a resume.
Recruit Our Students
We offer on-campus engagement tools for companies of all sizes across industries to raise brand awareness and recruit students. We will develop a customized recruiting plan to support your particular needs. Current recruiting options include networking sessions and job and internship postings.
Our students and graduates have been placed in internships and full-time positions with companies such as: Amazon, Disney, Ebay, Facebook, Groupon, Microsoft, Motorola, Pandora, PwC, and Walmart.
student recruitment opportunities
Opportunities for Collaboration
Engage with the rising stars of the analytics field. Let our students add value to your business via hands-on experience opportunities. If you are interested in engaging with us through any of the opportunities below, please email us for more information.
Internships
A core requirement for the degree, students reaching the internship phase have completed three-quarters of their coursework and are highly motivated to apply their knowledge and skills to a professional set­ting. Interns may be employed to undertake discrete projects or to supplement the resources of existing teams.
Practicum and Capstone Projects
Twice in the curriculum, students engage in applied projects provided directly from the industry. Working under the guidance of business and technical advisers, each team of approximately four students works to provide the most effective and efficient solution for the client while crafting demonstrable evidence of their ana­lytics skills. Practicum projects are expected to last eight months. Capstone projects are expected to last ten weeks.
Data Sets
Classes in the Master of Science in Machine Learning and Data Science program rely on a wealth of data. Providing data sets offers refreshing insight and exposure to otherwise underused information.
Guest Lecturers
Industry leaders visit Northwestern to guest lecture in a class about a topic or issue in which they have particular experience. For students, opportunities to interact with established professionals in these settings are of immense value.
Industry Workshops and Seminars
Organizations and individuals may speak at and participate in seminars and workshops hosted at Northwestern University by the Master of Science in Machine Learning and Data Science program. This series fosters cross-industry dialogue to explore best practices, recent innovations, and common problems in analytics.
More in this section