Undergraduate Receives Two National Scholarships
Civil and Environmental Engineering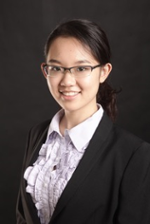 Senior, Yue (Major) Zeng, has been selected to receive two National Scholarships.  Major has been selected to be a part of The Engineering Honor Society, Tau Beta Pi. 
Tau Beta Pi is the nation's oldest and largest engineering honor society.  Tau Beta Pi seeks to broaden the collegiate experience of its members by enhancing the engineering educational experience.  Tau Beta Pi assists more students than any other engineering organization. 
The second honor comes from the American Society of Civil Engineers in which she was selected to be the recipient of the 2016 Robert B.B. and Josephine Moorman Scholarship.  The scholarship bequest was established in 2008 as a memorial to Robert B.B. Moorman who was a civil engineering professor at Polytechnic Institute of Brooklyn in Brooklyn, NY.  The interest proceeds of the scholarship are designated for undergraduate tuition assistance for students pursuing a degree in civil engineering or civil engineering related field.  
Read more about the Robert B.B. and Josephine N. Moorman Scholarship.