Professor Stathopoulos Reflects on Her First Two Years at Northwestern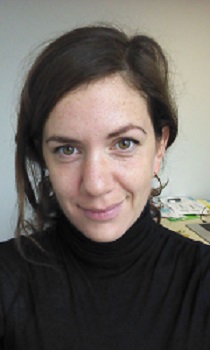 Amanda Stathopoulos joined the Department of Civil and Environmental Department at Northwestern as an Assistant Professor 2 years ago.  In 2015 she was awarded the William Patterson Junior Professorship Chair.
A native of Sweden she studied for 10 years in Italy receiving her undergraduate degree in Development Economics from the University of Roma Tre, a Master of Science in Development Economics from Sapienza University in Rome, and a Ph.D in Transport Economics from Trieste University.  After completing her graduate work, Amanda became a Research Fellow at the Ecole Polytechnique Federale de Lausanne (EPFL) in Switzerland.  For the daughter of a Greek father and Swedish mother who grew up in a small Swedish town and speaks four languages (English, Swedish, French, and Italian), accepting a faculty position at Northwestern was a bold, but at the same time, natural, next step in a promising academic career. 
Dr. Stathopoulos examines travel behavior and public acceptance of socially innovative or low-carbon mobility innovations. Her research program is highly interdisciplinary by design, addressing sustainable behavior, technology and policy design. To match the context of a mobility challenge (such as promoting active travel or predicting acceptance of new mobility programs) she draws on behavioral theories and research methods relating to economics, psychology, geography and policy in addition to engineering. The research methods include quantitative and qualitative analyses of empirical data, and quantitative statistical modeling of mobility systems.
Over the last 2 years she has successfully made the transition to a new academic life in the U.S. and developed many new relationships in the public and private sector and in the NU community.  For instance, she has initiated a collaboration, working across traditional disciplinary boundaries, which she does so well, with Professor David Uttal in the Department of Psychology and School of Education and Social Policy at NU, to examine the connections between neighborhood amenities, spatial ability, socio-demographic class and active transportation, such as biking and walking. The hope is to generate transportation policies that encourage the use of active transport modes and promote well-being for different groups of urban citizens.
Another exciting research collaboration that Amanda has developed in her short 2 years in CEE is a project bringing together transportation engineering faculty with computational scientists and economists on opportunities surrounding the sharing economy.  Led by Professor Yu (Marco) Nie, Amanda is part of a team that successfully secured a $1M grant from the NSF program, Partnerships for Innovation: Building Innovation Capacity (PFI:BIC).  Amanda and Marco are studying crowd-shipping of goods as a delivery strategy in collaboration with a U.S. start-up company.  Specifically, the multi-disciplinary research team is investigating how to build an efficient and sustainable goods delivery scheme around people's travel behaviors and looking to balance rapidly changing consumer aspirations with company capacity. "The idea is that current capacity is underutilized, and as an innovative new system, can crowdshipping close that gap, and how do we ensure that new service systems also balance society's needs? As for many urban challenges, we cannot solve societies problems with capital and technological innovation alone, we have to look at the underlying behavior and motivations," says Professor Stathopoulos. 
Amanda finds herself busier than she ever imagined teaching, writing, and learning.  In 2015 she became a member of the Transportation Research Board (TRB) committee on Transportation Demand Forecasting (ADB40) and she is the co-chair of the sub-committee on 'Emerging Methods and Developments in Urban Activity and Travel Analysis' ADB40(1). In her free time you can find Amanda enjoying the outdoors, especially during the non-winter months, reading and watching movies.